The Best Thrillers To Stream On Netflix Right Now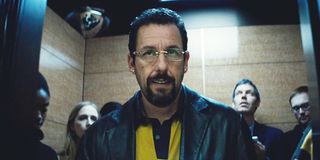 For all of the variety that Netflix offers in its innumerable films to stream, it seems to specialize in harboring entertainment from certain genres more than others. It has some of the most beloved and hilarious comedy classics of all time and its horror catalog is dripping with bloody good scares from the past and the present. Yet, I believe that the thriller movies available on the essential digital platform are blessed most balance in quality.
Of course, therein lies a bit of an enigma as to what definitively constitutes as a thriller, mostly due to the fact that every moviegoer has a different definition of what is particularly "thrilling." There may be some films on the list below that you may consider to be more of a horror movie because they managed to legitimately frighten you more than simply "thrill" you, or even some you think are more accurately described as just at drama because, as serious as they may be, the genuine "thrills" were few and far between. Or, perhaps you are the kind of jaded cynic who is the first to admit that nothing in Hollywood thrills you anymore.
Well, hopefully we can change that with the following films you can stream on Netflix right now. As previously mentioned, I believe the digital platform is endowed with many a great thriller, and of a great variety at that, and these 13 intense, action-packed heart-stoppers best hold a candle to that claim.
Jurassic Park (1993)
A pair of paleontologists (Sam Neill and Laura Dern) and others accept an invitation to a zoo harboring dinosaurs bred from prehistoric DNA - a dream come true that soon becomes a nightmare when a malfunction causes the main attractions to break free.
Why It's A Good Option For Thriller Fans: Based on the novel by Michael Crichton, Jurassic Park was the third time Steven Spielberg became the most profitable filmmaker of all time for this awe-inspiring, epic parable of the grave consequences of ambition, brought to life by cutting edge visual effects that remain timeless nearly three decades later.
Stream Jurassic Park on Netflix here (opens in new tab).
Zodiac (2007)
A cartoonist for the San Francisco Chronicle (Jake Gyllenhaal) strikes up an unlikely friendship with his crime reporter colleague (Robert Downey Jr.) and a disgruntled detective (Mark Ruffalo) as he obsesses over the identity of a murderer terrorizing Northern California throughout the late 1960s and early 1970s.
Why It's A Good Option For Thriller Fans: Jake Gyllenhaal's cartoonist character Robert Graysmith is the real-life author of the non-fiction book that inspired Zodiac, director David Fincher's masterful, in-depth account of the elusive serial killer's infamous reign that may be told mostly through dialogue, but to a deeply haunting effect that has remained largely influential to fact-based crime dramas since.
Stream Zodiac on Netflix here (opens in new tab).
The Platform (2020)
A man checks himself into a prison with a seemingly endless number of vertically stacked cells, each containing two inmates, in which a platform holding a mouth-watering feast descends from the top level, but not everyone gets the chance to have a bite.
Why It's A Good Option For Thriller Fans: Mystery is a crucial element of this Spanish-language Netflix original, which is also why I am not at liberty to reveal too much more about The Platform other than its grim, claustrophobic setting and stunning allegorical social commentary that will keep your nerves on edge and your brain ticking from the beginning until long after it ends.
Stream The Platform on Netflix here (opens in new tab).
It Comes At Night (2017)
A man (Joel Edgerton), his wife (Carmen Ejogo), and their teenage son (Kelvin Harrison Jr.) struggle to survive amid a global pandemic of which the most devastating symptom is paranoia.
Why It's A Good Option For Thriller Fans: Speaking of mystery, It Comes at Night, the sophomore effort of writer and director Trey Edward Shults and produced by A24, is an engrossing, irrevocably disturbing, and awfully timely thriller that never concerns itself with the cause but only the effects of a cataclysmic event, proving that your humanity is the worst thing you can lose when you have nothing left.
Stream It Comes at Night on Netflix here (opens in new tab).
The Gift (2015)
Married couple Simon (Jason Bateman) and Robyn (Rebecca Hall) find their idyllic lifestyle shattered to pieces after a chance meeting with Simon's high school classmate Gordo (Joel Edgerton) opens up a can of worms about his past.
Why It's A Good Option For Thriller Fans: Before Joel Edgerton starred as the disturbed protagonist of It Comes at Night, he was the writer, director, and disturbing stranger of questionable intent, Gordo, of The Gift, a creepy, well-crafted shocker of a morality tale that will have you looking back on your youth in hopes that you did not cross the wrong person.
Stream The Gift on Netflix here (opens in new tab).
The Guest (2014)
A grieving family receives an unexpected visit from a man (Dan Stevens) who claims to be a friend of their son, who died serving the military, and are charmed by his polite manner and willfulness to lend a helping hand, until strange things lead them to question if taking him in was the right decision.
Why It's A Good Option For Thriller Fans: The dynamic duo of director Adam Wingard and writer Simon Barrett, whom you might recognize from found-footage anthology V/H/S or slasher massacre You're Next, expand their horizons past horror with The Guest, which is more in the vein of '80s-style action with an intriguing aura of suspense that keeps you guessing until its bewildering conclusion.
Stream The Guest on Netflix here (opens in new tab).
Drive (2011)
A Hollywood stunt driver wishes to escape his double life as a chauffeur to Los Angeles' criminal underworld after meeting a beautiful single mother (Carey Mulligan), but instead, must confront his violent nature in order to keep her safe after they both become embroiled in a job that turns bloody.
It's A Good Option For Thriller Fans: Speaking of '80s-style action, Danish director Nicolas Winding Refn's Drive is a Neo-noir dream come true from beginning to end, with Ryan Gosling's cool, stoic performance as "Driver," the ambient synth-pop soundtrack, dreamy cinematography, and Hossein Amini's screenplay that slowly builds from a moody character study into an intense revenge epic comparable to a Greek tragedy.
Stream Drive on Netflix here (opens in new tab).
Blue Ruin (2013)
After a homeless bum (Macon Blair) learns that the man responsible for his parents' murder is about to be released from prison, he journeys back to his childhood home to dish out his own brutal brand of justice, only to receive the rude awakening that vengeance never comes easy.
It's A Good Option For Thriller Fans: Speaking of revenge epics, what sets Blue Ruin, writer and director Jeremy Saulnier's beautiful unsettling masterwork, apart from other crime thrillers (but still somewhat in line with his other notable efforts Murder Party and Green Room) is protagonist's scrappy, amateurish approach to a job in which mastery and professionalism is crucial, earning your empathy and support despite his foolish deeds.
Stream Blue Ruin on Netflix here (opens in new tab).
Nightcrawler (2014)
In need of a job, an alienating, sociopathic creep (Jake Gyllenhaal) looks into a career in freelance videography and goes to unimaginable lengths to "capture" footage of the most shocking accidents he can deliver to his local news outlet.
It's A Good Option For Thriller Fans: I still do not understand how Jake Gyllenhaal did not at least receive an Academy Award nomination for his internally and externally transformative performance as the morally questionable (or is it unquestionably immoral?) protagonist of Nightcrawler, a scathing indictment on sensationalist journalism from writer and director Dan Gilroy.
Stream Nightcrawler on Netflix here (opens in new tab).
Uncut Gems (2019)
New York City jeweler Howard Rattner believes he has finally hit the jackpot when he comes into possession of a rare opal of incredible value, but a rough family life, insurmountable debt, and his own demons continue to send further and further away from landing the big payday he believes he deserves.
It's A Good Option For Thriller Fans: With someone as likable as Adam Sandler as the lead of Uncut Gems, Josh and Benny Safdie's latest exercise in translating emotional distress to celluloid after 2017's Good Time, it is hard not to root for Howard Rattner, much the audience's own expense.
Stream Uncut Gems on Netflix here (opens in new tab).
The Town (2010)
A professional thief (Ben Affleck) is torn between loyalty to his crew and his romance with a bank manager (Rebecca Hall) as an obsessed federal agent (Jon Hamm) gets closer on his trail in a Boston neighborhood known for its infamous history of armed robberies.
It's A Good Option For Thriller Fans: Ben Affleck's sophomore behind-the-camera effort The Town, which uncovers the darker corners of his own home city, is arguably his finest achievement as a director for its flawless, emotionally driven performances (including an Oscar-nominated turn from Jeremy Renner) and visceral action sequences.
Stream The Town on Netflix here (opens in new tab).
Sin City (2005)
Set in fearful community of Basin City, a lovesick brute (Mickey Rourke), an unhinged drifter (Clive Owen), and a burdened detective (Bruce Willis) as the narrators of their own bleak stories of urban violence and corruption.
Why It's A Good Option For Thriller Fans: This anthology, that redefines the meaning of "comic book adaptation," inspired by Frank Miller's graphic novels Sin City, which redefine the meaning of noir, has everything you could ever want in a crime thriller, from poetic dialogue to breathtaking action, but with a unique mysticism and stunning visual style that leads to a thankfully unparalleled experience.
Stream Sin City on Netflix here (opens in new tab).
United 93 (2006)
The passengers of a commercial jet attempt to fight back when their plane is hijacked by terrorists on September 11, 2001.
Why It's A Good Option For Thriller Fans: Told in real time and with an unrelenting intensity under the direction of Paul Greengrass, United 93 is one of the most harrowing cinematic experiences in recent memory for its bold attempt to capture the final moments of a plane full of brave, ordinary people on one of the most devastating days in American history, released only five years after it took place.
Stream United 93 on Netflix here (opens in new tab).
What do you think? Does this list prove that Netflix is home to the most thrilling movie binge imaginable, or are you already asleep just from reading this? Let us know in the comments and be sure to check back additional information and updates on what is available on the digital platform, as well as even more of our own recommendations for some of the best movies and TV shows you can stream elsewhere, here on CinemaBlend.