Kelvin Harrison Jr.: 8 Great Performances From The High Note Actor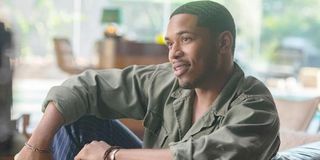 Kelvin Harrison Jr. has only been appearing in films since 2013. His big break came in Steve McQueen's Oscar-winning film 12 Years a Slave. Since then, he's appeared in over 30 film and TV projects-- blockbuster and critically acclaimed films and TV shows like Into the Badlands, Ender's Game, and Mudbound. He most recently appeared in the film The High Note.
With every new project, Kelvin Harrison Jr. shows that he may not be a household name yet, but he could easily grow to become a well-respected actor of his generation. Since Harrison Jr. is still quite early in his career, you may have missed many of his standout and memorable performances. Here are a few projects to get you acquainted with Harrison Jr.'s best works.
Waves (Tyler)
Waves is a family drama about a hardworking, semi-happy middle-class family who has their world thrown off loop when an unexpected incident shatters their foundation. Waves cast includes Renee Elise Goldsberry, Sterling K. Brown, Taylor Russell, and Kelvin Harrison Jr. Harrison Jr. plays the oldest son of the family Tyler.
Tyler has his entire future ahead of him, but an unexpected injury causes him to spiral out of control. Harrison Jr. brings humanity and intensity to this role in a way that makes it easy to be angry at Tyler but also sympathetic. It's a shame that Waves didn't receive more attention during award season, because it was one of the best films of 2019 and Kelvin Harrison Jr.'s performance was definitely outstanding.
Luce (Luce Edgar)
Luce is a suspense family drama about a young man who is adored and praised by most, except for one teacher. His teacher's questioning of his motives and behavior makes his adopted parents question him too. One element of Luce is the psychological battles between Luce and his teacher played by Octavia Spencer. The cast also includes Naomi Watts and Tim Roth.
Luce is another leading role for Kelvin Harrison Jr. and relies heavily on his and Octavia Spencer's performances to succeed. Octavia Spencer is such an amazing actress, so of course, you expect her to deliver, but Harrison Jr. holds his own and stands out in a cast full of talented performers.
The Photograph (Andy Morrison)
The Photograph is a romantic drama directed by Stella Meghie, featuring Issa Rae and Lakeith Stanfield. The film follows two sets of love stories: the present-day one with Mae (Issa Rae) and Michael (Lakeith Stanfield), and the one in the past between Mae's mother, Christina (Chante Adams) and Isaac (Y'Ian Noel). There is also a third love story between Andy (Kelvin Harrison Jr.) and Rachel (Jasmine Cephas Jones).
Andy is Michael's co-worker and Rachel is Christina's friend. This role is a slight departure from Harrison Jr.'s more dramatic roles. He plays a much goofier character than his acting norm.
Monsters And Men (Zyrick)
Monsters and Men is a drama from the perspective of several different characters. It's about the murder of an unarmed black man, Darius Larson (Samel Edwards) by police officers. Monsters and Men is clearly inspired by Eric Garner's death. Kelvin Harrison Jr plays Zyrick, a young man with a bright future but he finds himself drawn to protesting and being more of an activist after Darius's death.
Zyrick's story is about him being torn between going the normal, safe route in life and just keeping out of trouble, or standing up for what he believes in and fighting against injustices. Harrison Jr. doesn't have any major dramatic scenes, instead, everything is shown in his face--he's constantly shown looking troubled by what is necessary to ensure his success vs what he believes is just.
It Comes At Night (Travis)
Trey Edward Shults directed It Comes at Night. This is the first of his collaborations with Kelvin Harrison Jr. The film stars a sea of great actors, including Joel Edgerton, Christopher Abbott, Carmen Ejogo, and Riley Keough. The film starts with Paul (Joel Edgerton)'s family killing his wife's father because he's become sick. Quickly, we learn that there is a mysterious, highly contagious disease that threatens civilization. The family then cross paths with another family with Will (Christopher Abbott) as the patriarch.
Kelvin Harrison Jr. plays Paul and Sarah's (Carmen Ejogo) son Travis. Travis kind of acts as the middle ground of hope and fear. He wants to trust the new family and see that some good can come in this situation, but he's also being haunted by what seems like an omen. It Comes At Night is such an engrossing film that it'll hook you in the first few minutes.
StartUp (Touie Dacey)
StartUp is a Crackle original series starring Adam Brody, Edi Gathegi, and Otmara Marrero. It's about the extreme and corrupt measures that three individuals go through to launch a tech idea. It falls into the crime drama category of TV shows. Kelvin Harrison Jr. has a recurring role as Ronald's (Edi Gathegi) son.
As the son of a Haiti gang leader, he's constantly facing danger and violence. Harrison gives a passionate performance as you watch his character Touie go through turmoil as he tries to figure out what this world means for him and his future.
Godfather Of Harlem (Teddy Greene)
Godfather of Harlem is an Epix drama series that's a prequel to the 2007 movie American Gangster. It's about fictional characters and fictionalized versions of real people during the 1960s. Kelvin Harrison Jr. plays Teddy Greene, a man who aspires to be a musician. Greene is also involved with Stella (Lucy Fry), a white woman who is also the daughter of a mob boss, Vincent "The Chin" Gigante (Vincent D'Onofrio).
Much of Teddy's first season storyline in the Godfather of Harlem revolves around the danger of not only a black man in the 1960s dating a white woman but one with such a dangerous father. Harrison Jr. and Lucy Fry play two young people very much in love and how that love can sometimes lead to reckless behavior.
The High Note (David Cliff)
The High Note is a drama about personal assistant Maggie Sherwoode (Dakota Johnson). She works for a legendary R&B singer Grace Davis (Tracee Ellis Ross), who underappreciates and mistreats her. Maggie dreams of becoming a music producer and mixes songs in her free time. Harrison Jr. plays David, an aspiring musician who Maggie begins to produce. The two also start to date as she becomes his music producer. Kelvin Harrison Jr. takes on the romantic lead, setting him up (hopefully) for future roles in this genre.
Kelvin Harrison Jr. is an actor who (likely) has a bright and interesting career ahead of him. His next big role is as Black Panther activist Fred Hampton in The Trial of the Chicago 7. He will also be joining the cast of Euphoria in Season 2. You'll be seeing a lot more of Kelvin Harrison Jr. in the near future.
This poll is no longer available.
Spent most of my life in various parts of Illinois, including attending college in Evanston. I have been a life long lover of pop culture, especially television, turned that passion into writing about all things entertainment related. When I'm not writing about pop culture, I can be found channeling Gordon Ramsay by kicking people out the kitchen.
Your Daily Blend of Entertainment News
Thank you for signing up to CinemaBlend. You will receive a verification email shortly.
There was a problem. Please refresh the page and try again.