Scott Pilgrim Vs. The World: 10 Behind-The-Scene Facts You Might Not Know About The Movie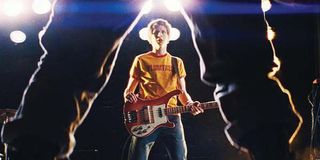 (Image credit: Universal Pictures)
There's a pretty great story about when Scott Pilgrim vs. the World - the Edgar Wright-directed, Michael Cera-starring graphic novel adaptation - opened in theaters. Opening against the likes of Julia Roberts' Eat, Pray, Love and Sylvester Stallone's The Expendables, Scott Pilgrim vs. the World came in a distant fifth at the box office. Family Guy creator Seth MacFarlane decided to take a dig at the film, tweeting "Scott Pilgrim 0, the World 2;" Edgar Wright was none too pleased. But one of the film's producers emailed Wright and told him, "Years, not days." He couldn't have been more right.
In the time since Scott Pilgrim vs. the World's theatrical release, the film has become a cult classic. And with it recently releasing in theaters to celebrate its 10th anniversary (a year delayed, thanks COVID), there's no better time to explore some of the behind-the-scenes facts around Scott Pilgrim vs. the World.
Edgar Wright Was First Approached For Scott Pilgrim During Shaun Of The Dead Press Tour
2004 was a big year for Edgar Wright. After getting their foot in the door with the British series Spaced, Wright, Simon Pegg and Nick Frost broke out with their zombie comedy Shaun of the Dead, the first film in what would become the trio's Cornetto trilogy. That was also the year that Bryan Lee O'Malley would publish the first book in what would be the Scott Pilgrim graphic novel series, "Scott Pilgrim's Precious Little Life."
It wouldn't take long for Wright to be introduced to Scott Pilgrim via producers Adam Siegel and Jared LeBoff, who pursued Wright during a screening of Shaun of the Dead, as the director recounted to Rotten Tomatoes:
Wright also saw it as an opportunity to expand his abilities as a director by leaving the safety of his working relationship with Pegg and Frost.
While Scott Pilgrim vs. the World would not be Wright's next movie - part two of the Cornetto trilogy, Hot Fuzz, came out first - that ultimately might have worked out for the best when it came for Wright to cast his perfect Scott Pilgrim.
Michael Cera Was Wright's First And Only Choice For Scott Pilgrim
Siegel and LeBoff recognized their guy to make Scott Pilgrim in Wright. Similarly, Wright knew exactly who he wanted to be his Scott Pilgrim, but he'd have to wait for the rest of the world to see it.
Around the movie's release in 2010, Wright told Entertainment Weekly that when he was first brought aboard Scott Pilgrim in 2004 he was watching a lot of Arrested Development and instantly thought Michael Cera would be perfect for the role, if only he was a little older. Well, after Wright had finished Hot Fuzz, Cera had become the right age and was eager to sign on.
However, Universal wasn't initially as keen. They had their eyes on Seth Rogen, who had just starred in the box-office hit Knocked Up. Wright, years later again to Entertainment Weekly, said he couldn't get his head around Rogen as Pilgrim.
Ultimately the studio relented and Cera ended up as the leading man in a cast that proved to be stuff to the gills with future A-listers.
The Casting Process Was A Who's Who Of Future Stars
Looking back 11 years later, all you can do is stand back in awe of the cast that was put together for Scott Pilgrim vs. the World. Joining Michael Cera was Mary Elizabeth Winstead as Ramona; Jason Schwartzman as the villainous Gideon Graves; Chris Evans, Brandon Routh, Mae Whitman as some of Ramona's evil exes; and the likes of Brie Larson, Anna Kendrick, Aubrey Plaza, Allison Pill, Kieran Culkin and Ellen Wong rounding things out.
All of these actors were in their 20s at the time (except for Schwartzman who was the elder statesman on set as he turned 30 during production) and though they had appeared in other projects, they had to have their true star-marking turns, be that Marvel (Evans and Larson), the Oscars (Larson again and Kendrick) or hit TV shows (Plaza, Pill and Culkin).
Even the list of people who auditioned and weren't cast in the film is an embarrassment of huge names. Including the already mentioned Rogen, Vanity Fair broke down many of the also rans, which included Robert Pattinson, Zoe Kazan, Rooney Mara, Sebastian Stan and Betty Gilpin.
Edgar Wright and Larson have talked about and shared memories from her fantastic audition, but it would be amazing to see all of these now major stars give their takes on the different parts.
The Impressive Cast Also Included Bill Hader In An Unseen Role
Sneaking his way into Scott Pilgrim vs. the World with all of those above mentioned cast members was Bill Hader. Don't worry, if you can't spot him in any of the scenes you're not missing anything. Instead, Hader was the man behind The Voice that interjects at different parts throughout the movie.
Hader was in the middle of his run on SNL when he lent his voice to the Edgar Wright film. The comedic actor has been known to do this a few times, including providing the "voice" for BB-8 in The Force Awakens, along with Ben Schwartz.
Hader has proved himself a master impersonator and voice artist, so maybe we shouldn't be surprised when he pops up with credits like this seemingly out of the blue.
Beck And Other Artists Provided Real Songs For Scott Pilgrim's Fake Bands
Part of the plot for Scott Pilgrim vs. the World is Scott's band, Sex Bob-omb, competing in a Battle of the Band tournament - which often divulges into actual battles. With music an integral part of the story, real musical artists actually wrote songs for the fake bands to perform.
Nigel Godrich served as Scott Pilgrim's composer, but he is also the producer for the band Radiohead and singer Beck, and he recommended Wright asking Beck to write the songs for Sex-Bob-omb.
Wright told Rotten Tomatoes:
It wasn't just Beck though, Broken Social Science provided the music for Crash and the Boys and Metric did Envy Adam's band, Clash at Demonhead, per The Guardian.
Some of Scott Pilgrim's most memorable sequences are the bands performing their songs, and having them professionally crafted clearly elevated them and the film overall.
Wright Personally Wrote To Nintendo To Get Zelda Music
There was one other key piece of music that Edgar Wright wanted to make sure he had for Scott Pilgrim vs. the World - music from The Legend of Zelda franchise.
Scott Pilgrim is a big homage to the world of gaming. It was so important to Wright to have Zelda music in the film that he sent a note to Nintendo asking for permission for them to use it where he describes the music as "nursery rhymes to a generation," The Guardian detailed.
Nintendo agreed to license the music, which was then performed by two members of Supergrass.
Edgar Wright Got Tips From Quentin Tarantino, Guillermo Del Toro And Sam Raimi
While Edgar Wright's first two films heavily featured zombies and some over-the-top police action, Scott Pilgrim vs. the World was larger than any other production he had ever done, with a higher focus on effects. Thankfully, he had become familiar with a number of big-name directors as his career got rolling and was able to pick their brains for advice.
One example was Quentin Tarantino, who Wright spent some time with on the set of Death Proof. In addition to first spotting Mary Elizabeth Winstead on the set, Wright got tips from Tarantino on how to shoot the fight scenes, he told EW.
In addition, Guillermo Del Toro recommended martial arts expert Brad Allen to Wright, who would help handle stunts for Scott Pilgrim, and Wright said that Sam Raimi was gracious enough to give him "a mini masterclass" about how to shoot special effects when he visited the set of Drag Me to Hell.
Nice to see the director community help out one another from time to time.
Wright Tapped Matrix Cinematographer To Help Make Universal 'Less Nervous'
Beyond the pointers from some of the best directors in the business, Edgar Wright decided to bring a cinematographer who had experience with massive action sequences, Matrix cinematographer Bill Pope. He admits it was a bit of a strategic move to ease Universal's concerns about the complexities of the film.
Wright was confident that Pope would be able to pull off just about any type of shot they needed, but he says he was surprised about what happened in their first meeting. The two only talked about the emotional aspects of the characters and story, Wright told Collider. "It was almost like he was completely unfazed by my visual ambitions and was more focused on what was at the heart of the story."
Wright and Pope would work together again on The World's End and Baby Driver.
Wright Did Not Want His Actor's To Blink During Close-Ups
There are a lot of different places that Edgar Wright pulled from for inspiration for Scott Pilgrim vs. the World. However, there's a less obvious one that you may not have noticed before that took its roots from both anime and actor Michael Caine - no blinking.
Again in the Rotten Tomatoes retrospective, Wright talked about how he wanted the film to have a surreal quality, like anime, and how in that genre the characters don't blink often. He also cited Caine, who has been quoted as saying blinking in a close-up, in particular, makes an actor look weak.
Wright agreed with these ideas and would be on the lookout for blinks from his cast. Which earned him the wonderful nickname of "Blink Nazi" on set.
Scott Pilgrim's Original Ending Was Reshot After Test Screenings
As mentioned above, when Wright was first approached to make Scott Pilgrim vs. the World only the first graphic novel had been published. By the time they got to writing the script, the series was still not complete and author Bryan Lee O'Malley just had an outline of where he wanted the story to go. So Wright had a Game of Thrones-like situation on his hands.
The first ending (Spoiler Alert for an 11-year-old movie) saw Scott choose Knives over Ramona. Michael Cera recalled hearing stories about test screenings with the original ending to EW, saying one scorecard loved so much about the film, but when asked about the ending they just wrote "lame."
Wright, again talking with Collider, said that the film with the original ending actually scored an 81 in test screenings, but thoughts of an ending where Scott winds up with Ramona kept persisting.
Working with O'Malley and the script's co-writer, Michael Bacall, they came up with the new ending over a weekend and added it in reshoots.
Despite their original intent and including the alternate ending on the Blu-Ray, Wright says that the second take at the ending was the right way to go and the definitive way his telling of Scott Pilgrim vs. the World ends.
Scott Pilgrim vs. the World currently has a limited re-release in theaters, but is also available to stream on Netflix.
D.C.-based cinephile. Will dabble in just about any movie genre, but passionate about discovering classic films/film history and tracking the Oscar race.
Your Daily Blend of Entertainment News
Thank you for signing up to CinemaBlend. You will receive a verification email shortly.
There was a problem. Please refresh the page and try again.