Edgar Wright Recalls Robert Pattinson's 'Intense' Audition For Scott Pilgrim Vs. The World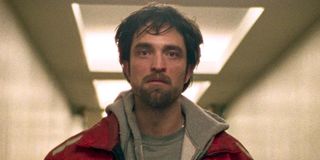 Scott Pilgrim vs. the World isn't just a cult classic. The 2010 comedy ended up being a stepping stone for many of today's most famous actors. According to Scott Pilgrim's director, Edgar Wright, the ensemble could have included even more future A-listers. In fact, he has a vivid memory of an intense audition from The Batman's future Bruce Wayne, Robert Pattinson.
Michael Cera is, without question, the star of Scott Pilgrim vs. the World, but the eponymous hero isn't the only character that ended up having a memorable actor behind him. The movie also features performances from several actors who would go on to become big stars, including Mary Elizabeth Winstead, Anna Kendrick, and even Captain Marvel's Brie Larson.
Edgar Wright told Vanity Fair that they actually auditioned a few up-and-coming actors that didn't make the cut, too. One of the most notable Scott Pilgrim cast-offs was Robert Pattinson, who read for the role of one of the seven evil exes, Lucas Lee.
The role eventually went to Captain America himself, Chris Evans, but that doesn't mean Robert Pattinson didn't make an impression:
Allison Jones, one of the casting directors for Scott Pilgrim vs. the World, recalled that when he came to audition for the role, Robert Pattinson was just on the verge of becoming a global superstar. He had filmed Twilight, but it hadn't hit theaters yet. From the sounds of it, he had no idea he was about to be part of a cultural phenomenon, either:
Obviously, Robert Pattinson went on to do pretty well for himself, not only with the Twilight franchise, but in a string of prestige dramas like Good Time and The Lighthouse. Even though he didn't get a chance to play Lucas Lee, Edgar Wright admitted he'd love to work with Robert Pattinson on a future project. Of course, at the moment, the actor is a little bit busy. He's currently back on set for Matt Reeves' The Batman after a COVID-induced production shutdown.
Edgar Wright is keeping pretty busy, too. He's got a new horror film on the horizon, Last Night in Soho, that's due to hit theaters in April 2021. Still, there should be plenty of time for the director and Robert Pattinson to collaborate -- perhaps on a movie that's a little more intense than Scott Pilgrim vs. the World.
Your Daily Blend of Entertainment News
Your Daily Blend of Entertainment News
Thank you for signing up to CinemaBlend. You will receive a verification email shortly.
There was a problem. Please refresh the page and try again.