We Know Who Won't Be Playing President Trump's Inauguration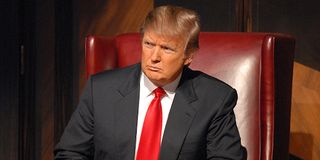 (Image credit: The Apprentice)
Though he's the most prominent example in history of a celebrity becoming president (Ronald Reagan, eat your heart out), Donald Trump might have a tough time trying to rally support from any other Hollywood A-listers. Case in point: booking a musician for his inauguration event. A member of Trump's presidential transition team let it leak that Elton John would be giving the inauguration performance, but that's not what John's representative is saying.
Anthony Scaramucci, vice chair of Donald Trump's presidential inaugural committee, told BBC on Wednesday that the team had booked Elton John to perform at Trump's inauguration on January 20, but John's rep put out that story faster than a candle in the wind. A representative for John told the New York Post just a few hours later that the British singer would not be performing at the event. It would be bizarre for Elton John to perform at Trump's inauguration anyway, since he openly supported Hillary Clinton in the presidential race, and even hosted a pricey fundraiser for her campaign. Despite this, Trump played John's hit "Tiny Dancer" at his events along the campaign trail.
The news comes just a few days after another mix-up involving the music for the inauguration ceremony. Over the weekend Motley Cruë frontman Vince Neil revealed that he had been booked to perform at the inauguration months ago, but was uninvited after Donald Trump won the electoral vote, Rolling Stone reported.
So who is going to provide the music for the ceremony? Finding a willing chart-topping singer or band is going to prove difficult for Donald Trump, as a majority of the most popular musicians today voiced support for Hillary Clinton and denounced Trump. In particular, you shouldn't expect to see vocal Clinton supporters Katy Perry, Miley Cyrus, Justin Timberlake, or Beyoncé take the stage, nor the numerous singers who barred Trump from using their songs on his campaign trail, which include Adele, the Rolling Stones, Neil Young, Queen, and more. Oh, and it definitely won't be Green Day, who led an anti-Trump chant at the American Music Awards this weekend, nor the cast of Hamilton, whom Trump recently expressed dissatisfaction with for asking his vice president Mike Pence to consider their experiences.
Where Hillary Clinton would have had scores of musicians to choose from, Donald Trump is left with only a few options. With no major musical celebrity to call on, Trump may turn to the less trendy artists that have voiced support for him, such as Kid Rock or Ted Nugent. Oh, and let's not forget that Scott Baio, who was the big celebrity at the Republican National Convention, released two full-length albums in the early '80s. I'll leave you with a taste of what the musical selection at Trump's inauguration just might end up sounding like:
Your Daily Blend of Entertainment News