Katherine Heigl And Josh Kelley Have A New Baby Boy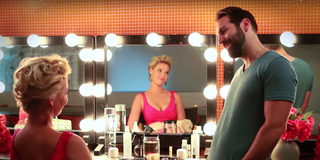 (Image credit: Funny Or Die)
It's a boy! Katherine Heigl and Josh Kelley have a new little member of the family, and apparently he's already almost a month old.
Katherine Heigl confirmed to PEOPLE that she had given birth to her son Joshua Bishop Kelley Jr. back on December 20. The newborn baby boy was Heigl's first natural birth, as the couple adopted Josh Jr.'s older sisters Nancy Leigh (nicknamed Naleigh), 8, and Adalaide Marie Hope, 4. Heigl shared her excitement about the expected arrival of her next child in her announcement.
Ten days before the birth of Joshua Kelley Jr., Katherine Heigl wrote about the baby shower that she and her mom planned to help welcome the baby boy on her blog Those Heavenly Days. Heigl shared some pictures from the event, along with a copy of the toast that her mom made, and wrote that her baby will be born in her and Kelley's mountain home in Utah. Heigl had been updating her fans on the intimate details of her first pregnancy throughout 2016 on the blog, with posts announcing the baby's gender, listing her favorite pregnancy-specific clothing, recipes, and more.
Katherine Heigl and Josh Kelley also celebrated their nine-year anniversary just a couple days after Josh Jr. was born. The couple first met when Heigl played the love interest in Kelley's music video for his song "Only You" back in 2005, and began dating shortly after. They got engaged in the middle of 2006, and married in Utah on December 23, 2007.
Though Katherine Heigl halted her acting career in 2016 to focus on her pregnancy, Joshua Kelley put out his eighth studio album New Lane Road back in April, and he even got Heigl to direct the music video for the record's lead single "It's Your Move." Now that Heigl's pregnancy is over, she's got a bunch of exciting new gigs lined up for 2017. She'll star in the thriller Unforgettable, and she's making her return to television as the lead in CBS's upcoming legal drama Doubt.
From all the excitement and joy that Katherine Heigl and Josh Kelley have expressed over their first biological child together, it's clear that little Josh Jr. is going to get a whole lot of love from his new family.
Your Daily Blend of Entertainment News
Your Daily Blend of Entertainment News
Thank you for signing up to CinemaBlend. You will receive a verification email shortly.
There was a problem. Please refresh the page and try again.