Guillermo Del Toro Says He Saw A UFO, Wasn't Impressed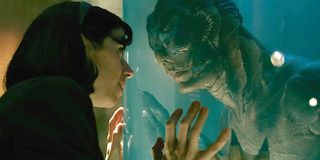 Guillermo del Toro knows a thing or two about dark fantasy, horror, and science fiction. After all, he is the guy behind ominous films like Hellboy, Don't Be Afraid of the Dark, Crimson Peak, and The Shape of Water. Now the 53-year-old Oscar-nominated film director says life once imitated art in his personal life when he saw a UFO. However, according to del Toro, the experience was an underwhelming one. He explained,
How funny. Only Guillermo del Toro would be unimpressed by the design of a UFO, as opposed to feeling overwhelming awe at seeing an intergalactic vehicle. The famous director also told The Hollywood Reporter that he and his friends were freaked out by seeing the spacecraft, which del Toro said flew from one spot in the sky to another place at about 1,000 meters away in mere milliseconds. Del Toro said he and his pals felt a primal fear, and he'd never been so afraid in his entire life.
Considering how Guillermo del Toro is the brain from which freaky-deeky characters like the strange Fauno and Pale Man from Pan's Labyrinth, one might find it amusing to hear del Toro talk about feeling afraid. We sometimes forget that the masterminds behind the masterpieces have their brightest moments, because of a mix of influences that inspire them. And despite the fear, del Toro apparently thought the design of the UFO was "crappy" and "clichéd", because it was nothing more than a flying saucer. He reported,
Aliens and UFOS were not the only weird topic Guillermo del Toro mentioned in the interview. He also talked about ghosts, and discussed how he manipulates the meaning of what ghostly characters can be in his films like Devil's Backbone. For example, he said he uses spirits to convey the intangible feeling of past regret or unfinished business.
It is always fascinating to hear about the experiences that add inspiration to the minds of creative people like Guillermo del Toro. In fact, del Toro mentioned how he does not consider himself a director who fits into a specific genre. Instead, he views himself as somebody who does "weird stuff," and truthfully, that seems like a great description when you look at his body of work. It all fits together as a cohesive unit, but you can see how there are significant variations from time to time.
From the sounds of it, Guillermo del Toro's real life is full of anecdotes that could fill up a season of a show like The X-Files. Here's hoping we get to hear more about the strange situations that inspire del Toro's favorite subject matter.
Your Daily Blend of Entertainment News
Thank you for signing up to CinemaBlend. You will receive a verification email shortly.
There was a problem. Please refresh the page and try again.