Inspired By Mad Men, Howard Johnson's Offers Free Stay To Don Draper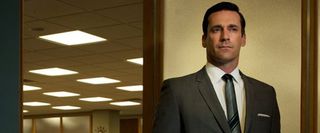 There aren't nearly as many Howard Johnson's out on America's highways as there used to be, and these days when we need a break from the road we're much more likely to rush through a McDonald's than stick around HoJo's for a dip in the pool and one of their 30 flavors of ice cream. But the long-established brand got a boost recently from, of all places, Mad Men, which set a huge chunk of last Sunday's episode at a Howard Johnson's in upstate New York, where Don and Megan Draper go to visit before working on a campaign for the restaurant and hotel chain.
Don and Megan's HoJo visit goes pretty badly, actually-- they fight, Don drives away in a huff, and when he comes back Megan has disappeared, leaving him to chain smoke and fall asleep in a booth while waiting for her return. They never even get to use the hotel room they're given, much less try their breakfast menu. So to both make up for it and capitalize on this moment in the sun, Howard Johnson's is trying out a marketing tactic even Draper might be proud of-- they're offering a free night's stay at the hotel to anyone named Don Draper. According to Yidio, the company's statement was short but effective: "To the Don Drapers of the world, the Howard Johnson hotel brand would like to say this: We're sorry and your next stay is on us."
There are actually a good number of Howard Johnson hotels both in the United States and all over the world, so while you won't quite get the candy-colored rest stop experience Don and Megan did, if you're a Don Draper you're crazy to pass up this offer. But if you're named Dick Whitman? Tough luck-- as far as Howard Johnson's is concerned, you really did die in Korea.
Your Daily Blend of Entertainment News
Staff Writer at CinemaBlend
Your Daily Blend of Entertainment News
Thank you for signing up to CinemaBlend. You will receive a verification email shortly.
There was a problem. Please refresh the page and try again.