Pepsi Gets A Whole New Look To Celebrate Back To The Future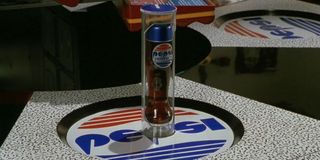 With the iconic Back to the Future franchise celebrating its 30th anniversary, a number of companies are joining in on the celebration to mark the glorious event. Among them is the soda company Pepsi who will be rolling out their product in a recognizable packaging. Fans of the trilogy will surely remember the sleek style of the futuristic Pepsi bottle, and will now be able to enjoy the cool beverage in the same exact glass. Check it out:
Pepsi won't be changing anything about their beverage inside the glass, but the aesthetic of the packaging will match the Pepsi Marty McFly purchased at a diner in Back to the Future II. The limited edition bottle will hit shelves on Oct. 21, and will give fans of the film franchise the chance to enjoy their very own Pepsi Perfect bottle. PepsiCo's senior director of marketing, Lou Arbetter explained the reasoning behind the company's decision to USA Today (opens in new tab):
The collectible item will be a limited edition, so the company is only planning on making about 6,500 bottles that will be sold only while supplies last. The bottle will be prices at $20.15, quite the deal in comparison to the $50 price tag attached to the Pepsi Doc Brown gave Marty in the film. Pepsi Perfect will be sold online and the company recommends that fans interested keep tabs on the company's social media pages closer to the launch date to find out exactly where it can be purchase. The soda inside the bottle won't be a new flavor but will include the traditional Pepsi Made with Real Sugar.
Pepsi also plans on distributing 1,500 Pepsi Perfect bottles during New York Comic Con, ahead of the general release, to those fans attending the convention dressed as Marty. Arbetter continued:
And fun will surely be had when fans are fighting for their limited edition bottle. Make sure to stay tuned with Pepsi's social media pages to find out when and where you can get your hands on Pepsi Perfect.
Your Daily Blend of Entertainment News
Thank you for signing up to CinemaBlend. You will receive a verification email shortly.
There was a problem. Please refresh the page and try again.