Reggie Watts Creates An On-The-Spot Score To Ridley Scott's Legend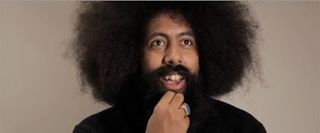 Reggie Watts is a special kind of musician. Sure, there's something special about all artists, but he's vastly original on every level. Watts is known for his completely improvised concerts, stream-of-consciousness beat-boxing, and his array of personas developed on stage to suite his show at any moment. His career thus far has been a blend of comedy, music, and improvisation unlike any other. During his most recent venture at SXSW though, Watts proved that he is truly a master of his craft, by showcasing his own original score to Ridley Scott's 1985 film Legend. Now he's finally making the score available to his fans for free download.
According to the website Brooklyn Vegan, Watts performed the on-the-spot original score to the Tom Cruise film, with the movie projecting behind him, at San Francisco's Sketchfest last year. If you aren't acquainted with him yet, here's an example of what he does best. Whether or not you've seen Legend, or know who this guy with the afro is, this hour and a half score is so unique it is worthy of your time. At the price of your email address you can't go wrong. Feel free to use the embedded download below.
If you had the time to listen, you'll notice that all Reggie utilizes in this performance is his voice, a looping device, synthesizers and other effects which create a strange, yet fascinatingly hilarious and captivating experience that only he could provide. Personally, I think Legend is Scott's worst movie, but the "Fuck Shit Stack" hit-maker turns it into something special. The fact that some artists are so wildly innovative, ambitious, and talented shows the rest of us who lack musical abilities that anything is possible. Hopefully Reggie Watts extraordinary talent will catch on.
For those of you who are fans of him, or are new comers delighted by his score, you're in luck. Watts is taking his show on the road for a handful of dates this summer. Check out the schedule below...
Reggie Watts -- 2012 Tour Dates
4/12 - Las Vegas, NV @ UNLV "The Adult Swim Block Party"
4/20 - Denver, CO @ City Hall "High Times"
5/16 - Chicago, IL @ Vic Theater
5/17 - Cleveland, OH @ Grog Shop
5/19 - Philadelphia, PA @ Trocadero
5/20 - New York, NY @ Webster Hall
5/21 - Washington, DC @ 9:30 Club
5/23 - Atlanta, GA @ Variety Playhouse
5/24 - New Orleans, LA @ Tipitina's
5/26 - Austin, TX @ Scottish Rite Theater
5/29 - Phoenix, AZ @ Crescent Ballroom
5/30 - Los Angeles, CA @ The Music Box
6/1 - San Francisco, CA @ The Independent
6/3 - Portland, OR @ Crystal Ballroom
6/4 - Seattle, WA @ Neptune Theater
Your Daily Blend of Entertainment News