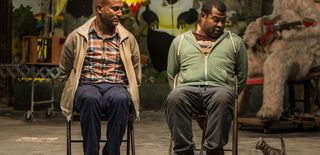 Keegan-Michael Key and Jordan Peele have firmly proven that in the game of short-form comedy, there are few funnier people working in the entertainment industry today. Their series Key & Peele was one of the most consistently hilarious sketch shows we've seen, with both the writing and performances always on-point and fantastic. Now they've taken their game to the film world with the new movie Keanu, and while not everyone can make a successful leap from seven-minute bits to feature-length material, that's exactly what Key and Peele have accomplished – starring in a movie that's equal parts ridiculous, adorable, and laugh-out-loud funny.
Directed by Peter Atencio and written by Jordan Peele and Alex Rubens, the film centers on two best friends: the up-tight family man Clarence (Keegan-Michael Key), whose wife and kid are away for the weekend; and Rell (Peele), a lazy pothead who finds his heart on the mend after a breakup thanks to the mysterious arrival of a ridiculously adorable kitten on his doorstep. Naming the tiny animal Keanu, Rell legitimately starts to emotionally heal… but he immediately begins to unravel again when he comes home one day to discover that his house has been robbed and his pet has been kidnapped. Unable to just let it go, Rell and Clarence begin an investigation into who took the tiny kitten, but find themselves in completely over their heads when they discover the only way to get Keanu back is to infiltrate a dangerous street gang.
From a macro perspective, Keanu does rest heavily on one major comedic conceit – which is that Rell and Clarence are as non-gangster as two guys can get and completely out of their depth – but what makes the film really work is that it never feels repetitive or puffed up. This is mostly because the film is constantly escalating the stakes and the extremity of the situations that the two friends find themselves in – at first just learning to casually talk street while hanging at a strip club, but soon finding themselves dealing drugs and in the middle of massive shootouts. The tighter the corner that the duo finds themselves in, the better Keegan-Michael Key and Jordan Peele work, forced to endlessly squirm and lie, and in the process produce comedic gold – be it lying about a minivan being the best low-key ride for criminal activity or singer/songwriter George Michael actually being a light-skinned OG.
The film also reinforces the old W.C. Fields adage about actors working with animals or children. Because the only thing more entertaining to watch in Keanu than Keegan-Michael Key and Jordan Peele is its titular, scene-stealing kitten. Not only is the kitten so insanely adorable that you can't help but coo every time he is on screen (not even remotely an exaggeration), but there is an incredible amount of surprising comedic mileage that simply comes from watching him awkwardly leap and dash across a room in slow motion as bullets fly around a room. You've never seen anything like it, and it's truly wonderful.
History is a mixed bag when it comes to sketch stars making their way into the feature business (look no further than the long line of Saturday Night Live movies), and it's because there is a very fine line between an idea that works for a five minute bit, and one that works as a 90-minute movie. It's a tightrope that Keegan-Michael Key and Jordan Peele nimbly walk across with Keanu, and while there is the occasional step that reveals the limitations of the material, it keeps you laughing so consistently that you'll barely notice. As a breakout film, it spells out a great future for Key and Peele on the big screen, and just like the feeling received while watching their show, we can't wait to see what they have coming up next.
NJ native who calls LA home; lives in a Dreamatorium. A decade-plus CinemaBlend veteran; endlessly enthusiastic about the career he's dreamt of since seventh grade.
Your Daily Blend of Entertainment News
Thank you for signing up to CinemaBlend. You will receive a verification email shortly.
There was a problem. Please refresh the page and try again.