12 Days Of Christmas: My So-Called Life's So-Called Angels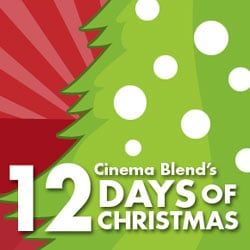 It's time to celebrate the Christmas/ Chanukah/ Kwanza/ Festivus Holiday season, so all around Cinema Blend we're enjoying Twelve Days of Christmas. Yes, we know traditionally the "12 days" start with Christmas, but we plan on being celebrated out by that time, so we're pushing the twelve days leading up to the holiday.
Here in Blend Television we're celebrating by counting down our some of our all time favorite holiday episodes, in an effort to boost your Christmas spirit. These aren't the 12 best out there by any means, just twelve of our favorites. Some of them you might enjoy like we do. Others you might want to check out for the first time. So without further ado:
On the third day of Christmas, my true love gave to me…
Claire Danes meeting an angel.
My So-Called Life was better known for its realistic, sometimes sarcastic look at teenage life in the mid-90s, but on some episodes it could get downright sentimental. "So-Called Angels" was one of those, the only Christmas episode the short-lived series ever got to do. It might be the hokiest episode of the series, but during Christmas hokey is pretty much what everyone is looking for. It also kicked off one of the best subplots of the show, about Angela's friend Rickie and his attempts to find a family.
At the beginning of the episode Rickie leaves his family's house after fighting with his abusive uncle. He goes to stay with Angela's family, but when he overhears Angela's mom talking about whether or not he should stay, he runs away and winds up staying with a group of homeless teenagers. Angela and her mom Patty eventually meet a mysterious young homeless woman who promises to "look after Rickie" and whose sad story reminds Patty and Angel to set aside their differences during the holidays. At the end of the episode it's revealed that she actually is an angel.
OK, that's the hokey part. But there's also a subplot about Rayanne treating a teen help line like a phone sex operation, until Brian actually calls in, and Jordan pops in with his usual hotness. Really, even a cheesy episode of My So-Called Life is less cheesy than most Christmas specials, so if you're looking for something that isn't A Charlie Brown Christmas all over again but still has the same mix of sadness and love, "So-Called Angels" can probably do the trick. And now that My So-Called Life is actually available on DVD for the first time in years, this is the perfect Christmas to do it.
This a selected clip reel of the episode from one of the many fans of My So-Called Life out there on the Internet, and it probably gives a much better sense of the episode than I ever could. Merry Christmas!
Read all of Cinema Blend's 12 Days of Christmas features in other sections by clicking here.
Your Daily Blend of Entertainment News
Staff Writer at CinemaBlend