2007 Fall TV Preview: Two And A Half Men On CBS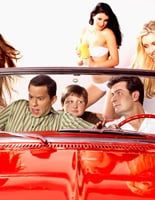 Two and a Half Men - Season 5
Premieres: Monday, September 24th at 9:00 p.m. EST
Network: CBS
Creator(s): Chuck Lorre, Lee Aronsohn
Starring: Charlie Sheen, Jon Cryer, Angus T. Jones, Holland Taylor, Conchata Ferrell, Marin Hinkle, Melanie Lynskey
Website: CBS.com (opens in new tab)
When you think about it, it's easy to see why Two and a Half Men is the highest rated sitcom on TV. We spend so much time during the week trying to keep up with complex, serialized dramas like Lost and 24 that it's comforting to spend half an hour every Monday night with two brothers who we know will never change. Charlie (Charlie Sheen) will always be a shallow, materialistic skirt chaser. Alan (Jon Cryer) will always be a neurotic single father who can't quite get over his (recently remarried) ex-wife. The only characters who we may see changes in this season are the guys' mother Evelyn (Holland Taylor), who will continue her romance with Teddy (Robert Wagner) and Alan's son Jake (Angus T. Jones), who is just hitting puberty. Pretty soon they'll need to change the title to Two and ¾ Men.
With such innovative comedies as The Office and 30 Rock getting all the critical buzz these days, it's hard to muster up excitement for a traditional, three-camera sitcom with a laugh track like Men. However, what the show may lack in originality, it makes up for with terrific guest stars like Wagner, and last season's standout, Judy Greer. This season we can expect more memorable guest appearances by the likes of Janeane Garofolo. Also, if TV Guide's Michael Ausiello is to be believed, we may be treated to a very special episode penned by the writing staff of CSI.
Your Daily Blend of Entertainment News
Thank you for signing up to CinemaBlend. You will receive a verification email shortly.
There was a problem. Please refresh the page and try again.