2007 Fall TV Preview: Women's Murder Club On ABC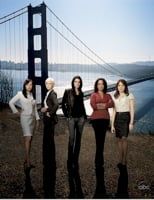 Women's Murder Club - Season 1
Premieres: Friday, October 12th at 9:00 p.m. EST
Network: ABC
Creator(s): Elizabeth Craft, Sarah Fain
Starring: Angie Harmon, Paula Newsome, Linda Park
Website: ABC.com
The female friendships of Desperate Housewives meet up with CSI-style crime solving-- at last!-- in The Women's Murder Club. Angie Harmon, a Law & Order veteran, plays Lindsay Boxer, a San Francisco detective sick of dealing with the men's-only world of the Justice Department. She forms her own crime-solving team with the female experts she knows-- newspaper reporter Cindy, district attorney Jill, and medical examiner Claire. The four of them use their expertise to solve crimes better than anyone else in town, and also form strong friendships amongst themselves in the process.
Television procedural dramas seem to be an endless resource for network TV, and while this one is based on a successful series of novels by James Patterson, it doesn't seem terribly new or exciting. It's nice, as always, to see strong competent women on television, and hopefully the Desperate Housewives comparison will turn out not to be apt and they'll be a little more put-together than the women of Wisteria Lane. For fans of the book this series is probably a dream come true, but I can't personally imagine going out of my way to catch this one. The fact that it's airing at 9 p.m. on Friday night probably means that my twenty-something demographic isn't being targeted anyway. For now, I'll stick to the ladies of Lost for my empowerment role models.
Staff Writer at CinemaBlend
Your Daily Blend of Entertainment News
Thank you for signing up to CinemaBlend. You will receive a verification email shortly.
There was a problem. Please refresh the page and try again.