2008 Winter TV Preview: Cashmere Mafia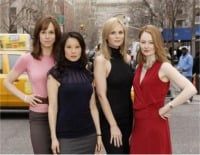 Cashmere Mafia - Season 1
Premieres: Sunday, January 6 at 10:00 p.m. EST
Network: ABC
Creator(s):Darren Star
Starring:: Bonnie Somerville, Frances O'Connor, Lucy Liu, Miranda Otto, Peter Hermann, Julian Ovenden
Website: ABC.com
The girls are back in town, and their names are Mia (Lucy Liu), Juliet (Miranda Otto), Caitlin (Bonnie Somerville) and Zoe (Frances O'Connor). Don't worry, though. All you need to remember is Cashmere Mafia, a show about four strong, independent women bonded by their Ivy League schooling, executive success, and tendency to outpace the men in their lives.
They help each other through the rough patches of life -- be it family, work and everything else – by supporting each other through thick and thin.
ABC has heard my prayers for a show about strong, independent, smart women who aren't scrambling up the corporate ladder. They're already there. I can't WAIT for this show to premiere, and I'm giddy with excitement over seeing these four women have it all. Or at least aren't AFRAID to have it all.
The main actors boast an impressive list of credits, and the people behind the show have the chops to pull it off. The producer is Darren Star (Sex and the City), and the writer is Kevin Wade (Working Girl). During a mid-season slump punctuated by the writer's strike, I think this show will score high with female viewers of all ages. Bring it on!
For the full 2008 Winter TV Premiere Schedule: CLICK HERE
Check it out:
Your Daily Blend of Entertainment News