2008 Winter TV Preview: Celebrity Rehab With Dr. Drew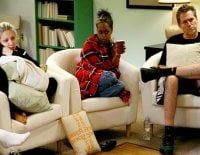 Celebrity Rehab with Dr. Drew - Season 1
Premieres: Thursday, January 10th at 10:00 p.m. EST
Network:VH1
Creator(s):Damian Sulivan, John Irwin, Dr. Drew Pinsky
Starring:: Daniel Baldwin, Jeff Conway, Brigitte Neilsen, Jessica Sierra, Chyna Doll, Jaimee Foxworth, Mary Carey, Ricco Rodriguez, Shifty Shellshock
Website: VH1.com
Celebrity Rehab follows nine (mostly former) celebrities as they undergo 21 days of addiction treatment at the Pasadena Recovery Center. As a Board-certified addiction specialist, Dr. Drew Pinsky, the host of Loveline, oversees the cast/patients. Viewers watch every step of the recovery and all of the struggles it entails. About half of Celebrity Rehab's cast members have recently spent time on other VH1 Celebreality shows, The Surreal Life and Celebrity Fit Club, indulging in many of the very activities which ultimately landed them in the recovery center.
I'm usually all for washed-up celebrities thrown together for my viewing pleasure, but this may be just a bit too much for me. The premiere is already up over at VH1.com, so I watched a little bit of it. From what I saw, it just looks really uncomfortable and sad. I really think I could have lived a little bit longer without having the image of Jeff Conaway's child bride physically helping him snort coke/Oxy Contin because he was too wasted to do it himself.
Dr. Drew is painting this as an unfiltered look at the world of addiction and treatment, but I don't know how successful that premise will end up being. Intervention on A&E manages to be informative without being exploitative, but by very definition, I'm unsure that a reality show on VH1 can achieve the same goal. The fact that one of the cast members, Jessica Sierra, is currently in jail because of a drug and alcohol related offense doesn't really help Celebrity Rehab's credibility. While relapse is part of any recovery, my fear is this show is less about recovering health and more about recovering careers.
For the full 2008 Winter TV Premiere Schedule: CLICK HERE
Your Daily Blend of Entertainment News
Your Daily Blend of Entertainment News
Thank you for signing up to CinemaBlend. You will receive a verification email shortly.
There was a problem. Please refresh the page and try again.