2008 Winter TV Preview: How To Look Good Naked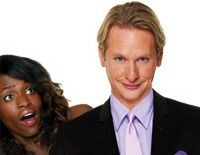 How To Look Good Naked - Season 1
Premieres: Friday, January 4 at 9:00 p.m. EST
Network: Lifetime
Creator(s):Alex Fraser, Greg Goldman, Riaz Patel
Starring:: Carson Kressley
Website: MyLifetime.com
Based on a British reality series, this show wants to change the way women think about their bodies. Hosted by Carson Kressley, the blonde fashion guy on Queer Eye for the Straight Guy, the goal is to teach women of all shapes and sizes how to go from hating their body to loving it – without resorting to fasting diets or cosmetic surgery. How novel.
Ok, first of all, I can pretty much guarantee that if you're a woman, you're thinking about your body right now. And probably hating it or finding some little thing to angst over. I really hope this show helps women to feel better about themselves and stop trying to look like the perfect women in the magazines. News Flash: They're all air-brushed! Even THEY don't look like that. It's ridiculous how much time we spend obsessing over our bodies. In fact, I hope this show helps us to stop obsessing and start using all that excess energy to create world peace or find a cure for cancer. And who better to lead the way than everyone's favorite girlfriend-in-a -guy's-body, Carson Kressley.
Your Daily Blend of Entertainment News
Thank you for signing up to CinemaBlend. You will receive a verification email shortly.
There was a problem. Please refresh the page and try again.