2008 Winter TV Preview: Lipstick Jungle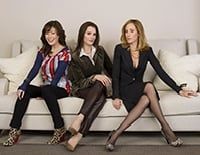 Lipstick Jungle Season 1
Premieres: Thursday, February 7th at 10:00 p.m. EST
Network: NBC
Creator(s): DeAnn Heline, Eileen Heisler
Starring:: Brooke Shields, Kim Raver, Lindsay Price
Website: NBC.com
Ah, rich women living it up in NYC. It's a theme that never gets old. We had six seasons of Sex and the City, followed by daily syndicated reruns. This season, we have two nearly identical shows: Cashmere Mafia and Lipstick Jungle. The tepidly reviewed Cashmere Mafia is SATC creator Darren Star's baby, while Lipstick Jungle is based on SATC author Candace Bushnell's book of the same name. Basically, they're both competing Sex and the City rip-offs from the people who brought us that show. Lipstick Jungle just happens to have a better cast.
Starring Brooke Shields and 24 alum Kim Raver, along with Lindsay Price, Lipstick Jungle follows three women at the top of their games: a magazine editor, movie exec and clothing designer. They try to balance life in the city with their careers, love lives and families, while acting as each other's support system. Though this has not been confirmed, my sources say that it will also involve buying expensive shoes and swilling brightly colored cocktails in elegant bars.
I haven't seen a single second of this show and I'm already horribly bored with it. I'm so completely over the whole Sex and the City culture and I'm not looking forward to a potential resurgence of people comparing themselves and their friends to the characters and blathering on about $400 shoes. Luckily, Cashmere Mafia seems to be tanking, so it doesn't seem as though we'll be facing a double assault. Lipstick Jungle seems to have a better chance, based on the fact that it's actually from Candace Bushnell and features three strong actresses. Either way, I doubt I'll be tuning in.
Check out this preview video and decide for yourself:
For the full 2008 Winter TV Premiere Schedule: CLICK HERE
Your Daily Blend of Entertainment News
Your Daily Blend of Entertainment News
Thank you for signing up to CinemaBlend. You will receive a verification email shortly.
There was a problem. Please refresh the page and try again.