2008 Winter TV Preview: Medium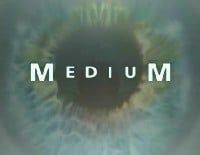 Medium - Season 4
Premieres: Monday, January 7th at 10:00 p.m. EST
Network: NBC
Creator(s): Glenn Gordon Caron
Starring:: Patricia Arquette, Jake Weber, Miguel Sandoval, David Cubitt, Sofia Vassilieva, Maria Lark
Website: NBC.com
As Allison DuBois, Patricia Arquette is a wife and mother of three who happens to see dead people and help solve crimes. Allison's gift is genetic, and in addition to her brother, her two oldest daughters have recently begun displaying some of the same abilities. As most of Allison's visions come to her in distorted dreams, most episodes center around her trying to make sense of what she's seeing and convincing people to believe her.
Last season ended with a cliffhanger. Neve Campbell guest starred as a reporter covering a serial killer terrorizing the Arizona town in which Medium is set. Allison's misinterpretation of her visions led to more deaths and the ousting of her boss, DA Devalos. Her misguided friendship with the reporter also leads to Allison's abilities and her true role at the DA's office being revealed for the first time. The 4th season starts with both Devalos and Allison unemployed and nobody even taking her calls.
I'm a big fan of Medium, but it got saddled with a stinker of a timeslot last season: Wednesday nights at 10, up against Lost. Because of that, the only first-run episodes I watched were those that took place during Lost's hiatus. Recently, however, I've been catching up via repeats on Lifetime. Medium, while always kind of dark, majorly went down that path in the 3rd season. Serial killers, hostage situations and blood-spattered animated interludes served to make it one of the creepiest shows on television.
Beyond the blood and guts, of which I am a fan, Medium is benefited by great acting. Other than Jake Weber's sometimes-questionable accent, everyone on this show, including the children, give strong and believable performances. Patricia Arquette has previously won an Emmy for her role and is currently nominated for a Golden Globe, which I think she has a chance at winning. It's a smart, well-written and well-acted show and I'll definitely be catching its first run this season.
For the full 2008 Winter TV Premiere Schedule: CLICK HERE
Your Daily Blend of Entertainment News
Your Daily Blend of Entertainment News
Thank you for signing up to CinemaBlend. You will receive a verification email shortly.
There was a problem. Please refresh the page and try again.