2008 Winter TV Preview: Reno 911!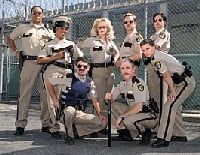 Reno 911! - Season 5
Premieres: Wednesday, January 16th at 10:30 p.m. EST
Network: Comedy Central
Creator(s): Robert Ben Garant, Thomas Lennon, Kerry Kenny-Silver
Starring:: Carlos Alazraqui, Wendy McLendon-Covey, Robert Ben Garant, Thomas Lennon, Niecy Nash, Kerry Kenney-Silver, Cedric Yarbrough, Mary Birdsong
Website: ComedyCentral.com
Reno 911! is a long-running comedy that sends up law-enforcement reality shows like COPS. Populated by a strong cast of comedians including several members of comedy troupe The State, Reno 911! is mostly improvised. The storylines are written for each episode, but the majority of the dialogue is off-the-cuff.
Season 5 features more of the ribald comedy that fans have grown to expect, including inappropriate relations with co-workers and sticking various, er…parts into peanut butter jars. The people policing the "biggest little city in the world" are just as slutty, drunk and incompetent as always, and guest stars like George Lopez, who plays Reno's mayor, come along for the ride.
I love this cast. I was a big fan of The State on MTV as well as the short-lived Viva Variety, which starred Thomas Lennon and Kerry Kenney-Silver. Reno 911! is definitely hilarious, but it's not appointment TV for me. Instead, it's a nice treat to stumble across when you're flipping through the channels on a Saturday afternoon.
Check out the Season 5 trailer, below!
For the full 2008 Winter TV Premiere Schedule: CLICK HERE
Your Daily Blend of Entertainment News
Your Daily Blend of Entertainment News
Thank you for signing up to CinemaBlend. You will receive a verification email shortly.
There was a problem. Please refresh the page and try again.