2009 Midseason TV Preview: 24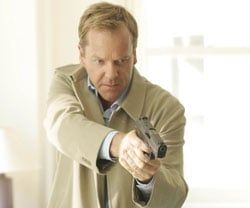 24 - Season 7
Premieres: Sunday, January 11, 2009 at 8:00 PM ET
Network: Fox
Creator(s): Joel Surnow, Robert Cochran
Starring: Kiefer Sutherland, Gil Bellows, Jon Voight, Mary Lynn Rajskub, Janeane Garofalo, Cherry Jones, Carlos Bernard, James Morrison, Annie Wersching, Colm Feore, Bob Gunton, Rhys Coiro, Jeffrey Nordling
Website: Fox.com
---
Have you been feeling like there aren't enough improbable situations being solved in under an hour lately? Good, because Fox has the cure with the mothaflippin' return of Jack Bauer in an all new day of 24. Day 7 for the poor beat down fellow begins six years after the end of the last season finale, with CTU dismantled and Bauer on trial. If you watched 24: Redemption last fall then you're set on how Jack was brought back to face a pompous tribunal of "we know better than you" suits.
Jon Voight joins the cast as Jonas Hodges this season as what appears to be the puppet master behind the terrorist schemes. And of course there's the return of Evil CTU Almeda. I'm not sure what'll piss Jack off more: Tony is a bad guy, or he cried over the loss of Tony and now is being made a fool of for expressing his softer side. You probe Jack Bauer's softer side and you're likely to get your hand bitten off. Just a fair warning to Almeda and his crew.
24 returns with a four hour premiere event starting January 11th at 8pm ET, and this time it's happening in the Nation's Capitol.
Click here for the full 2009 Midseason TV Premiere Schedule
Image 1 of 16
Image 2 of 16
Image 3 of 16
Image 4 of 16
Image 5 of 16
Image 6 of 16
Image 7 of 16
Image 8 of 16
Image 9 of 16
Image 10 of 16
Image 11 of 16
Image 12 of 16
Image 13 of 16
Image 14 of 16
Image 15 of 16
Image 16 of 16
Staff Writer at CinemaBlend.
Your Daily Blend of Entertainment News
Thank you for signing up to CinemaBlend. You will receive a verification email shortly.
There was a problem. Please refresh the page and try again.