Free Live TV From Plex: How It Works And What Is Available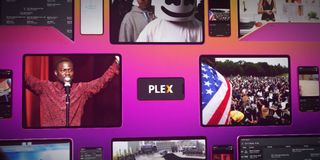 CinemaBlend participates in affiliate programs with various companies. We may earn a commission when you click on or make purchases via links. The following article was produced in partnership with Plex.
CinemaBlend has long had a partnership with Plex to bring attention to the streaming service's ever-growing collection of movies from yesterday and today. This time, however, we're highlighting one of the platform's services that doesn't get talked nearly as much as it should: Free Live TV On Plex. In case people are not familiar with the live streaming option, we have put together a list of some of the best things about the service, including how it works, what channels you can expect to see, and how you can find yourself stuck in the middle of the three-day Deal or No Deal bender (Yes, there's a channel for that).
So, if you're looking to cut the cord but don't want to sign up for live TV streaming options that end up costing you more money than you would have spent on cable, here's everything to know about Live TV On Plex.
What Is FREE Live TV On Plex
With so many live television streaming options out there today, you may be wondering: What is Live TV On Plex and what makes it any different than the competition. Well, the ad-supported global streaming service, unlike a lot of other platforms on the market, is completely free to its users that packs quite a punch with all sorts of classic movies, anime, wild courtroom shows, and much more. Plex, which has long been home to thousands of on-demand movies and television shows, launched its Live TV platform in July 2020, with an initial offering of 80 channels available in 220 countries and counting, meaning there is an insane number of viewing options that will keep you entertained for days on end.
And while you can create a free account, getting started with Live TV On Plex is as easy as going to the Plex TV website or downloading the app and you'll be streaming to your heart's content in no time.
What Is Included With Live TV On Plex
First off, there are now more than 137 different channels (more on those in a bit) split up into various topics of interest like news, sports, movies, music videos, game shows, and much more. With content being streamed 24 hours a day, seven days a week, there is literally something for everyone, especially if you are a wrestling fan (there's a Ring of Honor wrestling channel as well as other random promotions).
And after taking a dive into everything Live TV On Plex had to offer, I found myself becoming obsessed with some of the ridiculously awesome viewing options. Speaking of which...
What Channels Are Included With Live TV On Plex
It should be noted that you won't find most of the standard channels from cable and satellite packages on Live TV On Plex (though some classic shows from those channels do appear on the service). However, like I said earlier, this doesn't mean that Live TV On Plex isn't loaded with dozens of unique channels from a wide range of genres and topics of interest.
Let's say, for example, you are obsessed with America's Funniest Home Videos but you can't find old episodes and clips anywhere. Fear not because Live TV On Plex has a channel dedicated to the long running clip show and some of its greatest moments. And the same could be said for other shows like Deal or no Deal, which is playing around the clock on its own channel on the service. And what better way to look back on some of Howie Mandel's greatest moments (well, those not from Bobby's World) than doing so for the best kind of deal: completely free.
But on top of that, Live TV On Plex also features a number of news networks (Cheddar, Yahoo! Finance, Newsy, Reuters, Newsmax), sports channels (Sports Grid, Stadium, Hard Knocks, and more), and dozens of other channels ranging from romance to comedy and classic TV to movies from Hollywood's golden era.
Compatible Devices For Plex TV
Live TV On Plex can be enjoyed on the major browsers (Chrome, Edge, Firefox, and Safari), but can also be used on iOS and Android mobile devices, computers running macOS and Windows, smart TVs from LG, Samsung, Sony, Toshiba, Vizio, and Roku, streaming devices like Amazon Fire TV, Android TV, Apple TV, Chromecast, Roku, and TiVo, and the PlayStation 4 and Xbox One gaming consoles (no word on PlayStation 5 or Xbox Series X or Series S, but it's not like anyone can get ahold of one those consoles right now anyway).
I downloaded the app on Roku and toyed around with it for a bit. What I found was an easy to navigate service that didn't have any noticeable bugs, issues, or other hiccups that sometimes come with free streaming platforms. All of the functionality found on the browser version of Live TV On Plex was there with the only difference being that I used my kids' favorite toy (the Roku remote) instead of a mouse.
Web Shows And News On Plex
Live TV On Plex is a robust and expansive service, with new channels frequently added to further expand the breadth of available content,but that is not all that is included. In addition to free-to-stream live television, you also have access to web shows from a number of different content creators like Fail Army, Cheddar, The New Yorker, TechCrunch, GQ, Vanity Fair, and Pitchfork. When testing out the "Web Shows" section on Plex, I decided to have some fun with it and try out Fail Army channel for a quick laugh, and I was not let down. This section is filled with a 50-episode rotation that gets a refresher as often as twice a day, so you'll be watching videos with titles like "Fails of the Week," "FarmVille," and "Bon Voyage" in no time.
There is also a news section on Plex which breaks down the both the biggest news stories of each day and more specialized reports that may slip between the cracks on major networks. This news section is loosely tied to your location, giving you access to some of the biggest stories from local area and state.
Movies And Shows Streaming On Plex
In addition to its Live TV, podcast, music, and news offerings, Plex is also home to thousands upon thousands of on-demand movies and television programs from various studios including BBC, Crackle (Sony), Lionsgate, MGM, and more. The titles can be split up by category (so many categories) or by studio (or channel) to help you discover your new favorite movie or show or rediscover one from years back.
One of the most ridiculous categories I came across while looking for a movie to watch was one titled "Cage Rage Vs. Wills World," which as the name suggests, consisted of some of Nicolas Cage and Bruce Willis' most ridiculous action movies.
With the service not costing you a penny and the abundance of great features, there are numerous reasons why you should give Live TV On Plex a shot. I mean, it's not going to cost you anything and around-the-clock streams of Judge Faith and endless loops of '90s music videos aren't going to watch themselves.
Philip grew up in Louisiana (not New Orleans) before moving to St. Louis after graduating from Louisiana State University-Shreveport. When he's not writing about movies or television, Philip can be found being chased by his three kids, telling his dogs to stop yelling at the mailman, or yelling about professional wrestling to his wife. If the stars properly align, he will talk about For Love Of The Game being the best baseball movie of all time.
Your Daily Blend of Entertainment News
Thank you for signing up to CinemaBlend. You will receive a verification email shortly.
There was a problem. Please refresh the page and try again.