There's An Amazing New Collection Of It's Always Sunny In Philadelphia Gear And Of Course It Includes References To Rum Ham And Fight Milk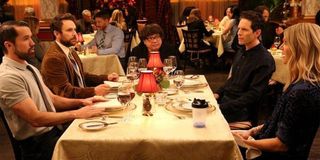 Hey there, fans of It's Always Sunny in Philadelphia! It's been so long since we've gotten new episodes of the show. How are we even supposed to be happy without seeing shenanigans from the gang on a regular basis? We know they'll be back for at least four more seasons (and making TV history while they're at it), so that provides us with at least a small glimmer of hope.
But thankfully, we have something to tide you over until the next season debuts. We're partnering with our friends over at Loot Crate to help announce their It's Always Sunny in Philadelphia Capsule Collection, launching tomorrow! Get this, though... CinemaBlend readers will have early access TODAY, Monday, March 15, to purchase it!
What's In It & How To Get It
The It's Always Sunny in Philadelphia Capsule Collection includes three pieces of premium bar-hopping apparel, including a sexy ass pair of Fight Milk Joggers, a totally tight Rum Ham Frank T-shirt, and a bitchin' Paddy's Pub Zip Up Hoodie (all featured above).
The T-shirt is $25 plus shipping and handling, the Jogger is $30, and the hoodie is $35. OR you can purchase all three items for $85 plus $5 shipping and handling. If you purchase all three items, you'll receive a bonus Rum Ham Decal to show off to your crew. This collection is limited edition so it's best to order fast!
You can purchase everything here.
Well, hopefully this bitchin' collection from our friends at Loot Crate will help fill the void until we get new episodes of It's Always Sunny in Philadelphia! And if you're looking for some more It's Always Sunny content to help fill the time until the next season drops, we've ranked the best episodes so far! And did you know that the show's quarantine episode has been somewhat eerily accurate?
Your Daily Blend of Entertainment News
Thank you for signing up to CinemaBlend. You will receive a verification email shortly.
There was a problem. Please refresh the page and try again.