Mike Rowe Reacts To Dirty Jobs Getting Revived As A Streaming Series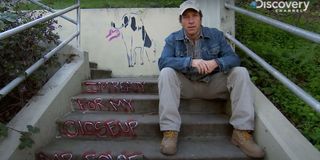 Well, it looks like Mike Rowe will be getting elbow-deep in the muck once again. His acclaimed show Dirty Jobs showcased him apprenticing in various forms of hardcore, gritty labor for almost a decade – everything from turkey insemination to concrete laying – before its cancellation in 2012. Now, Rowe is reacting to the news of Dirty Jobs being officially revived by Discovery for a new season. He said in the network's press release,
The new season of Dirty Jobs is currently in production with the premiere date set for later in 2021. In it, host Mike Rowe will be getting his hands even dirtier than ever before. He will be traveling to various landscapes, from bayous to Badlands, and dealing with all kinds of creatures – like glowing scorpions and giant iguanas.
According to Discovery, Dirty Jobs and Mike Rowe will continue their original mission of showcasing the essential workers in America and their day-to-day duties. To name a few, Rowe will be protecting motorists from dangerous "cliffside tree disasters" and helping first responders practice on "the most lifelike medial emergency dummies in the world."
The original Dirty Jobs ran from 2003 to 2012 and had a limited series reboot called Dirty Jobs: Row'd Trip last summer. Its success is the likely reasoning for the new full season revival order of Dirty Jobs.
The news of a Dirty Jobs revival is particularly relevant in the age of quarantine and the coronavirus pandemic. Society has had to heavily reckon this past year with the fact that there are a multitude of different kinds of essential workers in this country, and they are drastically under-appreciated.
Of course, doctors and nurses are the epitome of essential work. But there are others who do more of the grunt, "dirty" work – like the janitors who clean hospitals or the garbage collectors who dispose of all manner of potential germs. Appreciating these people was the very ethos of the original Dirty Jobs all those years ago.
Fans always loved to see Mike Rowe go underneath structures, into tight spaces, fend off bugs and dirt and potential injury in Dirty Jobs. The shock-and-gross factor will probably still be there in the Discovery revival, underscored by a newfound and true appreciation for that kind of labor.
Freelance writer. Favs: film history, reality TV, astronomy, French fries.
Your Daily Blend of Entertainment News
Thank you for signing up to CinemaBlend. You will receive a verification email shortly.
There was a problem. Please refresh the page and try again.