Deadliest Catch's Mahlon Reyes Is Dead At 38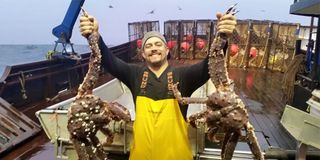 The tumultuous year of 2020 continues with yet another unexpected death. Deadliest Catch's Mahlon Reyes has died of a heart attack. He was only 38-years-old. Reyes was a deckhand on the Discovery Channel documentary series, which chronicles the lives of crab fishing crews on the Bering Sea, and he is survived by his wife and four children.
Mahlon Reyes' wife Heather Sullivan confirmed to TMZ that the reality star died while in his hometown of Whitefish, Montana after suffering a heart attack on July 25. He initially survived the heart attack and made it to the hospital, but he unfortunately never regained consciousness. The decision was made to take him off of life support the next day, and Reyes passed away in the early morning on July 27.
The deckhand's family was shocked by his heart attack because he reportedly didn't have any preexisting health conditions that they knew of. Heather Sullivan confirmed that Mahlon Reyes was cremated and that the Deadliest Catch crew will spread some of his ashes over the Bering Sea. However, Reyes' cause of death has not been officially confirmed by the Flathead County Sheriff's office, and is pending the results of an autopsy.
In a detailed Facebook post, Heather Sullivan explained that when the paramedics reached the Deadliest Catch deckhand, he was unconscious and had no pulse. However, they were able to resuscitate him and move him into the ICU. Unfortunately, Mahlon Reyes never woke up, and the lengthy time he spent without oxygen caused "irreversible brain damage." Here's what she wrote:
Mahlon Reyes appeared in several episodes of the Discovery Channel series and worked on two fishing boats: the Seabrook and the Cape Caution. Deadliest Catch co-star and deck boss Nick McGlashan took to Twitter to pay tribute to Reyes with a picture of the two of them together. Take a look below.
Prior to his death, Mahlon Reyes was recovering from a torn Achilles, an injury he suffered while working on a crab boat. Reyes' wife says that he was working really hard to heal so that he could get back to Alaska in time for crab fishing season. Per the Facebook page set up in Reyes' memory, his family plans to celebrate his life on August 31, which would have been Reyes' 39th birthday.
We here at CinemaBlend offer our deepest condolences to Mahlon Reyes' family and friends and our thoughts are with them during this difficult time.
Your Daily Blend of Entertainment News