Mythbusters' Adam Savage Reflects On Grant Imahara's Death More Than A Year Later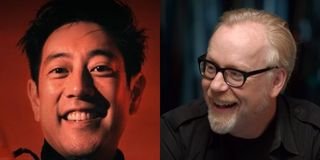 (Image credit: Discovery)
Part of the joie de vivre that was Discovery Channel's MythBusters was its ability to engage viewers, young and old, in science and technology. Hosts Adam Savage and Jamie Hyneman, along with their team of experiment builders, we're like a new generation's version of Bill Nye the Science Guy – but for all. Among them was Grant Imahara, an electrical engineer/roboticist, whose sudden and tragic death last year shocked countless fans of the show. In remembrance, Savage has reflected on his former MythBuster co-star just over a year after his death.
Grant Imahara appeared on MythBusters over the course of 10 seasons before his and several other alums' untimely exits in 2014. But the world remembered him fondly when news broke of his death from an intracranial aneurysm at the age of 49 in July of 2020. Many of his former colleagues mourned his loss, including Adam Savage, and a foundation would later be created in his honor. Now, Savage is honoring Imahara once again. He told Yahoo Entertainment:
The death of Grant Imahara was equally devastating to us fans who first came to know him on MythBusters and, later, on the short-lived Netflix series White Rabbit Project. We remember him for his obvious love of problem-solving that was evidenced through experiments that ranged from playing tennis on the wings of an airplane to the miracles of duct tape to cannonball cheese folklore. But Imahara's reach extended far beyond the Discovery Channel, as his technical work was also featured on late night TV, Comedy Central, and countless films including the Star Wars prequels, The Matrix films and many more.
Having worked with him for several years on MythBusters, Adam Savage says that Grant Imahara was someone who embodied the very essence of the long-running series. He said:
MythBusters was ultimately cancelled in 2016 after a 16-season run on Discovery. But it would live on in several spinoffs such as Adam Savage's MythBusters Jr. and the more recentl Motor MythBusters, which featured some of Grant Imahara's former builder teammates.
Hopefully, wherever Grant Imahara is now, he's concocting some experiment to prove its scientific existence to us here on earth. And even now, we continue to offer our deepest condolences to his family and friends.
I am a vegan feminist. I'm fascinated by all things space/stars. I love film history, reality television, and my cat Bubbe.
Your Daily Blend of Entertainment News
Thank you for signing up to CinemaBlend. You will receive a verification email shortly.
There was a problem. Please refresh the page and try again.