ABC 2011 Fall TV Premiere: Revenge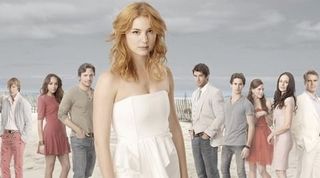 Set to join ABC's primetime line-up this fall is Revenge, a drama series starring Emily Van Camp, which will top off Wednesday night following the network's two-hour block of comedies. Will Revenge be a suspenseful, vengeful drama or just another primetime soap?
Reading ABC's description for the show, I thought the series sounded intriguing. A mysterious girl arrives in the Hamptons with baggage full of drama and scores to settle could make for an interesting series. However, the clips (below) aren't really selling this one for me just yet. Then again, there's a distinct soap-opera feel to the series that may appeal to other viewers (especially those whose favorite soap operas are coming to an end).
Below is ABC's synopsis for the series and further down are a few clips from the premiere episode:
Revenge will begin airing Wednesdays this Fall (2011), 10:00-11:00 p.m., ET.
CLICK HERE to view ABC's Fall 2011 Primetime Schedule.
Image ©ABC
Image 1 of 15