ABC Family Looking Nationwide For Huge Cast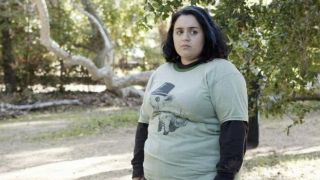 (Image credit: Disney / ABC Family)
It's not often that a network has open casting calls for a scripted program, but ABC Family is doing so for Huge. I see it as further proof that Hollywood's obsession with people being skinny and beautiful really has taken itself perhaps too far. In a country where many of us are overweight, it says something that our entertainment capital couldn't possibly find enough "people of a certain size" to create a cast of kids to populate a fat camp.
Huge is based on Sasha Paley's book of the same name, and apparently they need to find six plus-sized teens to star in it ... or at least six people who can pass for 15-16 year olds. Earlier reports have described the series as having elements of Glee in it, though it's unclear if that means there will be a performance aspect to it beyond acting. Regardless, six leads for the weight-loss camp, and one would assume they'll need extras to make the camp look full. And apparently nobody in Hollywood, aside from Gabourey Sidibe who was found outside of normal acting circles as well, is big enough for these roles.
So think of this as a chance to prove that plus-sized people are every bit as magical and spectacular as the Hollywood elite by showing up and blowing their socks off. But you'd better be ready right now because the casting starts next week. Here's the relevant information (and don't worry if you can't make it to any of these; videos can be submitted online at www.abcfamily.com).
OPEN CALL INFORMATION:
Austin, TX - March 1st & 2nd
March 1st from 2PM-8PM CT
March 2nd from 2PM-8PM CT
Austin Creative Alliance
701 Tillery St., Suite 8A
Austin, TX 78702
austinopencall@yahoo.com
Atlanta, GA - March 3rd & 4th
March 3rd from 2PM-8PM ET
March 4th from 2PM-8PM ET
John Robert Powers Building
7740 Roswell Road
Atlanta, GA 30350
atlantaopencall@yahoo.com
New York, NY - March 5th & 6th
March 5th from 2PM-8PM ET
March 6th from 12Noon-6PM ET
John Robert Powers Building
424 West 33rd Street, Penn Station
New York City, NY 10001
newyorkopencall@yahoo.com
Chicago, IL - March 7th & 8th
March 7th from 2PM-6PM CT
March 8th from 2PM-8PM CT
John Robert Powers Building
8430 West Bryn Mawr, Suite 100
Chicago, IL 60631
chicagoopencall@yahoo.com
Seattle, WA - March 9th & 10th
March 9th from 2PM-8PM PT
March 10th from 2PM-8PM PT
Bon-Macy's Building
3rd & Pine, 7th Floor
Seattle, WA 98111
seattleopencall@yahoo.com
Your Daily Blend of Entertainment News