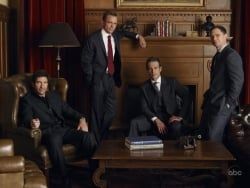 In what can possibly be seen as a hoarding move, ABC has decided not to air the remaining episodes of freshman drama, Big Shots this year. According to The Hollywood Reporter, they are choosing instead to save the two remaining new episodes for next year—that way we have the illusion of new TV in the new year.
The series, which has semi-accurately been called a Desperate Housewives for dudes, has been airing Thursdays at 10, also known as the coveted post-Grey's Anatomy time slot. Airing for the rest of the year in its place will be reruns of Private Practice, the Grey's spin-off that fits in more with the demographic already watching ABC at that time (mainly people who like their medical dramas low on medical, high on drama, with a lot of inappropriate sex thrown in).
Big Shots, which stars Dylan McDermott, Christopher Titus, Joshua Malina and Alias-hottie Michael Vartan, was an underdog before it even premiered. Once it actually made it to the airwaves, it was met by low ratings and poor reviews. Big Shots just doesn't fit in. A show about guys in their 40s playing golf and commiserating over their relationship problems is a tough sell. The storylines are seen as too feminine for a lot of guys, while the characters' macho attitudes and the abundance of the aforementioned golf turns off many women. In fact, as far as I can tell, I seem to fall into the main demographic for this show—people who leave the television on for background noise while they churn out a 1200-word Grey's Anatomy recap. Apparently we don't quite represent the numbers that ABC hoped for.
Your Daily Blend of Entertainment News
Your Daily Blend of Entertainment News
Thank you for signing up to CinemaBlend. You will receive a verification email shortly.
There was a problem. Please refresh the page and try again.