Adult Swim Announces Three New Shows and More in Development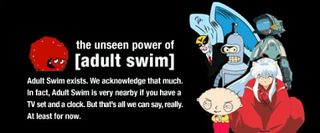 The Adult Swim upfront event happened last week in New York (followed by a press release to summarize everything nicely), and they announced three new original programs to join the already green-lighted Black Dynamite (opens in new tab) and NTSF:SD:SUV (National Terrorism Strike Force: San Diego: Sport Utility Vehicle) on the 2011-12 schedule. On top of the three (totaling five) new shows, they also announced a bunch of projects in development, and some of the names on that list are pretty exciting.
The three new series they announced are The Heart, She Holler,China, IL, and Tight Bros. (yes, I know that it looks like five shows, but two of them have commas in the title...makes it difficult on me). The Heart, She Holler, starring Patton Oswalt and Heather Lawless, is a redneck soap opera spoof. China, IL (from the people behind Metalocalypse) is about a couple of college professors in the titular town who are more concerned with being awesome than teaching. And finally, Tight Bros., a new animated comedy, sounds like a mix of Jersey Shore and The Book of Mormon.
Of the projects in development, two stood out to me. First, Regal Productions, a new live-action comedy from Bob "Mr. Show" Odenkirk, and second, an untitled project from Dan "Community" Harmon and Justin Roiland. I'm always up for anything Bob Odenkirk is doing (especially when he's writing, directing, and starring), and it will be interesting to see what Dan Harmon can produce for the Adult Swim since he'll be working without the typical network content restrictions.
You can get detailed descriptions on all the new shows and those in development from the full press release (opens in new tab) on TVbytheNumbers.
Your Daily Blend of Entertainment News
Thank you for signing up to CinemaBlend. You will receive a verification email shortly.
There was a problem. Please refresh the page and try again.