Allen Gregory Series Premiere Preview: Four Clips From Sunday's Episode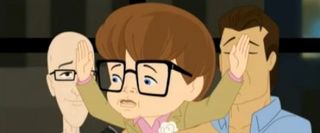 There's some fresh blood joining Fox's (in)famous Animation Domination line-up this Sunday with the premiere episode of Allen Gregory. For those unaware, Allen Gregory is a new half-hour animated comedy from Jonah Hill, Jarrad Paul and Andrew Mogul about the world's most pretentious seven year old who's forced out of his sheltered, ritzy, home-schooled lifestyle and into the treacherous world of the public school system. This does not sit well with the precious Allen Gregory DeLongpre.
I've been talking this show up quite a bit since catching the hilarious 10 minute pilot presentation at San Diego Comic-Con, mostly because the Animation Domination block was a significant part of a whole generation's coming of age and it has since gone to shit. The Simpsons hasn't been funny in 15 years, Family Guy, not since it's return, American Dad was born mediocre and The Cleveland Show is so terrible Seth MacFarlane should have pulled an Alan Smithee on that show.
So yes, it was exciting to see 10 minutes of a Fox animated series that not only delivered laughs but also had the potential to make people excited for a Sunday night cartoons again! Joining Hill to voice the comedy, is a stellar cast that includes French Stewart, Nat Faxon, Leslie Mann, Jake Johnson and the amazing Will Forte (among others). But don't take my word on it, there have been many promos leading up to this weekend but Fox has also just released four new clips to advertise the new series.
The first clip is a nice introduction to the DeLongpres, gay parents (Richard and Jeremy) and the adopted Cambodian sister Jules. The second follows closely behind and intros our lead, Allen Gregory. The final two show the contrast of his socialite home (in clips 1 and 2) and the public school filled with children his own age (you know, talking about boogers in their hair and the like). Take a look at these four short clips and see if you might be interested in catching the little guy for his big premiere on Sunday.
Allen Gregory debuts on Fox at 8:30 p.m. ET this Sunday (October 30) right after The Simpsons' "Treehouse of Horror" episode.
Your Daily Blend of Entertainment News
Thank you for signing up to CinemaBlend. You will receive a verification email shortly.
There was a problem. Please refresh the page and try again.