The Amazing Race Season Premiere Watch: Double Your Money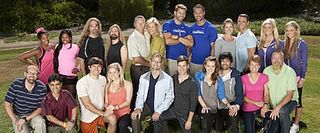 Hello all! Hope you all had a great summer. I spent a lot of mine recapping America's Got Talent and teaching our new kitten that my computer's mouse is not an ACTUAL mouse. But now it's time to get back to work, and with the twenty-first season of The Amazing Race getting underway on Sunday night, the timing was just perfect. This will be my fifth season recapping what I believe is still the best reality competition show ever created.
Since I did not do a preview of the season, I will include a brief description along with their highlights in the first leg. And since Leg One was only sixty minutes and not the usual ninety, that means that the eleven teams would get an average of about four minutes of screen time each, so we likely wouldn't get more than the briefest of impressions about them anyway.
There are the usual mixture of ages, races, sexual orientations and backgrounds, along with a few players that are somewhat famous depending on what circles you roll in. I can also tell you that some of the places that the racers will be tromping through will include China, Indonesia, Bangladesh, Turkey and the Netherlands. And good old Phil dropped the first twist on the racers before he even said "Go": namely, that although winning the final leg is ultimately the most important goal, winning the first leg has just become the second-most important, because if the team that wins Leg One ends up winning the race, they win not the usual $1 million price, but $2 million. My first thought to that was: "I bet the jostling at the airport will increase tenfold." No, seriously, that was it.
Phil also said in his opening address that he would be "eliminating most of you", which makes me wonder if there will be two instead of the traditional three teams racing in the final leg. Guess we'll find out in due course.
Starting Line - The Colorado Street Bridge in Pasadena, California. To get their first clue, the teams had to rappel off of the bridge, which is a pretty harrowing way to take your first steps! The clue told them that they would have to fly to the city of Shanghai, China, after which they would have to make their way to the Yuanshen Sports Centre Stadium, a 20,000-capacity venue used mostly for soccer.
As usual, teams had to go on one of only two flights, with the first seven teams getting a ninety-minute jump on the other four. When they got to the Stadium, their first Clue Box was the season's first Roadblock, which instructed one team member to try to successfully score one single point in table tennis against a junior champion, who would be using household items instead of a paddle. You just had to know that even using frying pans and clipboards, these kids would run rings around the Americans. The rub was, with all the teams showing up at once, a missed chance meant they had to wait until the kid came around to their table again.
Instead of a Detour, this season's initial leg instead had a second Roadblock, located at the CuiPing Restaurant, and the only proviso of this one was that it had to be done by the person who did not do the first one. And this was a beaut: the racer had to eat a Chinese dessert called hasma, which is made from... wait for it… the Fallopian tubes of frogs. With chopsticks. Wow, the producers must have snickered for hours coming up with this one.
Anyway, after downing the foul-looking dessert, teams had to go to the waterfront area in central Shanghai called The Bund, where they would look for a woman with an abacus. After locating her, they had to go on foot to the first Pit Stop of the season, which was the Bund Signal Tower, a century-old structure overlooking Shanghai Harbor.
Below is the order the contestants finished in, along with some of their more interesting moments.
#1. Abbie (31) and Ryan (35) - Two dating divorcees from San Diego, California. She is a dance instructor and he is a competitive martial artist. They got the first lucky break of the season when the ping-pong prodigy made an unforced error, allowing them to get through the Roadblock first. Three teams actually found the lady with the abacus ahead of them, but Amy made the mistake of telling them where she was, and this allowed them to leg out a win. They are a very strong team, and now that they have a $2 million prize to shoot for, they are extra-motivated. They also probably have a target on their backs.
#2. Amy (32) and Daniel (36) - A dating couple from Summit County, Colorado. Amy is easily the sympathetic favorite, a champion snowboarder who lost both legs to bacterial meningitis when she was nineteen, along with her spleen, kidneys, and her hearing in one ear. Yikes. They seem to be true contenders, and I would be surprised if they didn't make it at least to the second half of the race. They would have probably won this leg, but Amy's prosthetics limit her foot-speed, and they couldn't beat Abbie and Ryan to the mat. Maybe next time.
#3. Caitlin (24) and Brittany (25) - Best friends from Atlanta and Chicago, respectively. Both were star college athletes. Unlike last season's pathetic crop of all-girl teams, this team seems to have a fair amount of moxie AND smarts, which is a good combination for this show. Will keep an eye on them.
#4. Nadiya (26) and Natalie (27) - Twin sisters from Edgewater, New Jersey, who were actually raised in Sri Lanka. They didn't make any overt mistakes, but I have a feeling that their sisterly bickering may turn septic at some point on the race. And another thing: they are LOUD, brattish and not above lying to other teams. Given that we barely know anyone at this point, they just shot up to first place on the next team I want to be out.
#5. Rob (46) and Kelley (50) - Married monster-truckers from Boston, Georgia, and from the moment I read that description, I knew I was going to like them. Rob is built like a bouncer, with a Gatorade-green mohawk and goatee, but you can just tell he's a teddy bear at heart. Rob was the first racer to make the "should've read the clue all the way through" mistake: he had to down a second plate of hasma after using his hands to eat the first, which was a no-no.
#6. James and (53) and Mark (aka "Abba") (45) - Two friends from Burbank, California and Denver, Colorado. James probably has had the most fame of this season's crop – he is a former heavy-metal musician that was in both Megadeth and White Lion, and he still looks like he can rock out at the drop of a hat. Abba could be his bandmate, but he's actually an entertainment lawyer. They cost themselves at least three spots by expanding their search on the Bund too far, but they seem to be wily and savvy. I like them.
#7. Josh (43) and Brent (38) - Life partners and goat farmers from Sharon Springs, New York, who had their own cable shown entitled The Fabulous Beekman Boys on both Planet Green and the Cooking Channel. They seem like nice guys, salt-of-the-earth types and all, but they spent most of this leg in last place, and I have serious doubts that they have the fortitude or killer instinct that it will take to make it through the season. I peg them to be out in the next three legs.
#8. Gary (52) and Will (53) - Best friends and substitute teachers from Michigan, and they are quite a mismatched pair. First off, the height difference is akin to Penn and Teller, except that Will looks like a slightly older Chris Kattan. They applied to be on the show seven times, and they finally got their shot. I have no reason to dislike them, but Will is a lot more gregarious than his giant teammate Gary, who is kind of a stick-in-the-mud. We'll see if they have what it takes later on.
#9. Trey (23) and Lexi (22) - Dating couple from Austin, Texas. He used to play for the Longhorns, and she was a cheerleader. Didn't see very much of this team at all, so I can't really form much of an opinion. Whether their place in the back of the back was due to bad luck or bad timing, I don't know. All I know is, if they are smart enough to really compete this season, they have yet to prove it to me.
#10. Jaymes (30) and James (27) - Best friends and Chippendale dancers from Las Vegas, Nevada. They sing and play guitar in their act, and apparently they are not like Magic Mike at all, so there goes my game plan for the rest of the season. From their position, you'd think they were on the second plane, but that was not the case. They were the first to the stadium and the third team to finish both Roadblocks. However, they got hopelessly lost searching the Bund for Abacus Lady, allowing nearly everyone from the second plane to pass them. Them finishing in last after being at the front of the pack would have been akin to the U.S. collapsing in the Ryder Cup, but lucky for them, one team was just as inept. They need to seriously rebound next week.
The following team was eliminated:
#11. Rob (52) and Sheila (44) - Engaged couple from Pigeon Forge, Tennessee. When I saw that they were lumberjack-sports enthusiasts, I was excited about their potential despite their age. They should have finished in eighth place, because they walked right by Abacus Lady. That's the kind of mistake that is often fatal, and it was in their case, because they couldn't win a footrace against the Chippendales. They lost the race by literally ten feet, which just sucks. Too bad we won't get to know them better.
This season: Nine countries. Twenty-five thousand miles. Synchronized swimming? You betcha!
Your Daily Blend of Entertainment News
Thank you for signing up to CinemaBlend. You will receive a verification email shortly.
There was a problem. Please refresh the page and try again.