Angry Boys Preview From HBO And Comedian Chris Lilley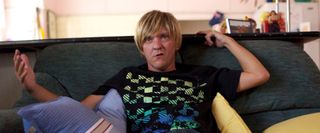 A few years ago, North American audiences were introduced to comedian Chris Lilley through his unique and hilarious series Summer Heights High. The show originally aired in his native Australia and after winning the Logie (think Emmy) for outstanding comedy it was quickly picked up by HBO. Unfortunately the series only had one season but, lucky for us, Lilley and HBO are back with Angry Boys.
Like his previous shows, the program had its initial run in Australia (and the U.K.) before coming this way for a New Years Day North American premiere. It strikes me as odd that it would air in its entirety overseas before hitting HBO since it is a co-production between them and Australian Broadcasting Corporation, meaning 'ahoy matey' for all those pirates out there. Oh well, perhaps they wanted to test the show on proven ground first or maybe there was some business deal behind the scenes. I only bring it up because of the delay, I want to watch it seven months ago.
Earlier I called his series' Summer Heights High unique when really it's Lilley himself who is quite special. He began his career as a stand-up comedian and his signature is that he always plays multiple characters - often recycling some across his various shows. To get a sense of his range, on SHH, he played a 13 year old boy, a 16 year old girl (a character who previously appeared on the series Big Bite) and a 37 year old man. And three is nothing, on his previous Logie Award winning show We Can Be Heroes: Finding the Australian of the Year he played six and two of them - 17 year old twin brothers Daniel and Nathan, who is hearing impaired - are back for Angry Boys. And that's just the beginning. Take a look and see how many times Lilley appears.
Angry Boys premieres on Sunday, January 1, 2012 at 10:00 p.m. ET on HBO.
Your Daily Blend of Entertainment News
Thank you for signing up to CinemaBlend. You will receive a verification email shortly.
There was a problem. Please refresh the page and try again.