Arrow Promotes John Barrowman To Series Regular For Season 3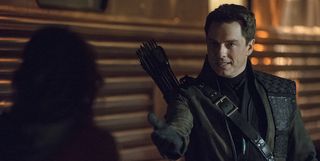 John Barrowman's Arrow character dropped in a couple of times throughout the CW series' second season, but it looks like we'll be seeing a lot more of Malcolm Merlyn in Season 3, as Barrowman has been promoted to series regular. Arrow SPOILER warning if you're not caught up on Season 2 through this week's finale, "Unthinkable"!
TVLine confirmed Barrowman's promotion today. The news comes the day after Arrow wrapped up its second season, and those who caught last night's episode probably understand why Malcolm Merlyn will be around a bit more in Season 3.
So, how's it going to be when Malcolm Merlyn is around full-time? Stephen Amell may be giving us a little clue here in this snapshot he shared:
Post by Stephen Amell.
Interestingly enough, Merlyn's presence in Arrow Season 3 was teased in the updated synopsis CW released when they announced the 2014-2015 lineup...
Pretty much everything in that synopsis is boilerplate, up until the end when Thea's name is brought up, as Thea has allied herself with Oliver's "most deadly enemy." When Season 2 of Arrow left off, Thea was in her father's limousine, dressed in black and on her way to parts unknown, ready to leave Roy, Oliver and the rest of her life in Starling behind for whatever Merlyn had in store for her. As the synopsis for Season 3 hints, "rivalries and allegiances will shift." Will Thea form a bond with her father? Is she willing to overlook his dark past in favor of a life that doesn't involve people constantly lying to her?
With Barrowman's promotion, it seems evident that Merlyn will be returning to the forefront of the series when Season 3 picks up this fall. It'll be interesting to see where he and Thea stand when the Arrow resumes, and what this man has planned for the future.
You can read our breakdown of last night's Arrow finale here. And you can see what CW has in store for the 2014-2015 season with their lineup here.
Your Daily Blend of Entertainment News
Thank you for signing up to CinemaBlend. You will receive a verification email shortly.
There was a problem. Please refresh the page and try again.