Battlestar Galactica Finale Beats Out Dollhouse And Terminator SCC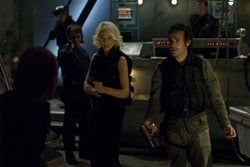 NBC Universal posted the updated ratings information for the series finale of Battlestar Galactica, which aired on Sci Fi last Friday night. As the two-hour finale marked the end of this phenomenal "space opera" show, the ratings naturally soared. The episode drew in 2.4 million total viewers, making it the most-watched episode of the series in over three years.
In addition to that, NBC broke the numbers down even further to emphasize just how well the episode did: Battlestar Galactica Finale Ratings Update :
• Battlestar Galactica was the #1 entertainment program on television Friday night for adult male viewers, beating all non-sports telecasts on cable and broadcast for both Males 18-49 and Males 25-54, including new episodes of both Dollhouse and Sarah Connor Chronicles on FOX.
• In both the Adults 18-49 and Adults 25-54 demos, the Battlestar Galactica finale was the #1 cable telecast for the day, and SCI FI was the #1 cable network in 8-11 PM prime for both demos as well.
• For its full fourth season, Battlestar Galactica averaged a 1.8 Household rating, 1.6 million Adults 18-49, 1.7 million Adults 25-54 and 2.3 million total viewers. (Note that this does not include the final DVR playback data for the final 2 episodes, and in season 4.5 to-date the series has added over 700,000 viewers per episode from 7-day DVR playback.)
• Season 4 is up vs. season 3 by + 13% in Household ratings, +15% in Adults 18-49, +16% in Adults 25-54 and +14% in total viewers.
• This is the best full season performance for Battlestar Galactica in Adults 18-49, Adults 25-54 and total viewers since season 1.
Now, saying Battlestar Galactica beat out Dollhouse and Terminator: SCC isn't really saying all that much considering both of those shows aren't exactly thriving in the ratings but it is still a pretty big deal when a cable show manages to beat out one of the network shows during primetime. Hopefully fans of both Dollhouse and BSG DVRed last Friday night's episode of Dollhouse and caught it later because it was easily the best episode of the series to date (And I'm not just saying that because Tahmoh's shirt is off in more than once scene). I've also heard really good things about last Friday's episode of Terminator: SCC. In case you missed Dollhouse either because you were too busy watching BSG or because you haven't gotten around to watching this show yet, we've embedded the episode below:
Kelly joined CinemaBlend as a freelance TV news writer in 2006 and went on to serve as the site's TV Editor before moving over to other roles on the site. At present, she's an Assistant Managing Editor who spends much of her time brainstorming and editing feature content on the site.
Your Daily Blend of Entertainment News
Thank you for signing up to CinemaBlend. You will receive a verification email shortly.
There was a problem. Please refresh the page and try again.