Battlestar Galactica Scores Four Emmy Nominations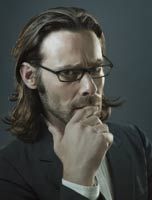 I know we've complained quite a bit about this year's Emmy nominations but I need to add another gripe to the list. Where is the love for 'Battlestar Galactica' in the main categories? Edward James Olmos is long overdue for some kind of Academy recognition for his consistently amazing performance on the Scifi series. Some of the other supporting actors in the show have also delivered outstanding performances but like Olmos, were passed over for nominations.
For the most part, all of the acting on 'Battlestar Galactica' has been at the very least, on par with this year's Emmy nominees. Was I the only one who was blown away by Michael Hogan's "That's the man I want to be" speech in the season finale? Mary McDonnell, Tricia Helfer and James Callis have also delivered solid performances that in many ways have contributed to the greatness of this under-appreciated series.
The above said, I shouldn't complain too much because the series was not completely snubbed by the Academy of Television Arts and Sciences. Below are the four Emmy nominations that 'Battlestar Galactica' received:
For "Exodus – Part 2"
Outstanding Directing For A Drama Series
Outstanding Sound Editing For A Series
Outstanding Special Visual Effects For A Series
And for "Occupation/Precipice"
Outstanding Writing For A Drama Series
To the Academy – Next year is the last season of 'Battlestar Galactica.' I implore you to keep an eye on this show and give it a bit more recognition, especially in the acting categories and depending on how the season plays out, perhaps even an nod for Outstanding Drama Series.
Your Daily Blend of Entertainment News
Thank you for signing up to CinemaBlend. You will receive a verification email shortly.
There was a problem. Please refresh the page and try again.