Bradley Whitford To Guest Star On Shameless In Season 3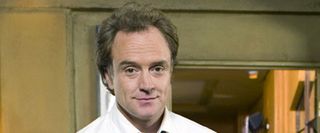 Since his epic West Wing run, actor Bradley Whitford has popped up randomly in television and film, in roles that are generally pretty varied. Recently, you may have caught him in The Cabin in the Woods, and soon you'll be able to catch him in Showtime's Shameless, too--that is, provided you have a subscription to the pay-cable network. Whitford is set for a multi-episode arc in the series, and it sounds like he'll be playing a type of person who may be a little out of his element on the Showtime program.
Whitford is set to guest star as a character named Abraham in the third season of the series, which follows a drunken dad and his dysfunctional family of children as they attempt to get by financially in a low-income neighborhood in Chicago with no parental help. It's unclear how Abraham will interact with the Gallagher family in the series, but EW is reporting Abraham will be a gay man who has a lot of political power in Chitown. Since it's also noteworthy that he will be "well-dressed" and will be a political activist, I'm guessing he's not from the same side of the tracks as the Gallagher clan.
Whitford is set for a two-episode arc in the series, but it will still be a little while before we see what the man brings to the table. Although Season 3 of Shameless began shooting way back in June, new episodes won't begin airing on Showtime until 2013.
Showtime's Shameless premieres Sunday, January 12, 2013 at 9 p.m. ET.
Your Daily Blend of Entertainment News
Thank you for signing up to CinemaBlend. You will receive a verification email shortly.
There was a problem. Please refresh the page and try again.