What To Watch On Amazon Prime If You Need To Laugh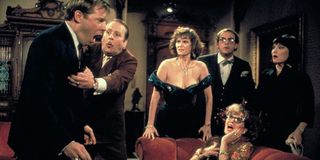 CinemaBlend participates in affiliate programs with various companies. We may earn a commission when you click on or make purchases via links.
It's cliche but true that laughter sometimes really is the best medicine. It makes you feel at ease in times of stress, helps you process complicated things, and just puts you in a better mood. We all need a good laugh. Luckily, the billion and one streaming services out there offer many great comedies to watch when we need a little bit of laughter in our lives. Amazon Prime Video's film and TV collection has plenty of great options for laughs.
Comedy is subjective, so you may not find some of these TV shows and movies funny, but I have tried to give you a variety of movies and shows that I personally find very funny and also believe will give many people a good chuckle.
The Marvelous Mrs. Maisel (2017)
In The Marvelous Mrs. Maisel, Midge Maisel (Rachel Brosnahan) is a 1950s housewife who discovers that she has a talent for stand-up comedy. She revamps her housewife life to start doing stand-up.
Why It's a Good Option for Laughs: Rachel Brosnahan gives a charming and amusing performance as Midge. She's the type of quirky character that pulls you into her gravitational force. The Marvelous Mrs. Maisel stand-up comedy scenes are fresh and bold. Mrs. Maisel is a character who makes you laugh while also inspiring you with her bravery at a time not generous to women who didn't fit the standard. The Marvelous Mrs. Maisel also has a very strong supporting cast of funny people, including Tony Shalhoub and Alex Borstein.
Stream it on Amazon Prime here.
Airplane! (1980)
Airplane! is a parody disaster movie. It follows the passengers and flight crew of a plane traveling from Los Angeles to Chicago. During the flight, the passengers and crew face many obstacles, like sickness and an emergency landing.The cast of Airplane! includes Leslie Nielsen, Robert Stack, Robert Hays, Julie Hagerty, and Kareem Abdul-Jabbar.
Why It's a Good Option for Laughs: Airplane! is a very slapstick movie with great one-liners, running jokes, and a fun satirical tone. If you're a fan of slapstick comedy and over-the-top characters, then Airplane! has the right amount of kick for your needs. I'm serious, and don't call me Shirley.
Stream it on Amazon Prime here.
Also Try: Plane, Trains and Automobiles
3rd Rock From The Sun (1996)
3rd Rock from the Sun follows four extraterrestrials as they take human form to live on Earth to observe humans. The four main characters are played by French Stewart, Joseph Gordon-Levitt, John Lithgow, and Kristen Johnston.
Why It's a Good Option for Laughs: 3rd Rock from the Sun has a really fun premise that makes it easy for hilarious situations to play out. If four aliens came to Earth, they would definitely be confused and not know how to adjust to our social norms. 3rd Rock from the Sun is so enjoyable because of the top-notch performances by the five main characters, including Jane Curtin.
Stream it on Amazon Prime here.
Moonstruck (1987)
Loretta (Cher) and Johnny (Danny Aiello) become engaged, so she seeks out his younger brother Ronny (Nicolas Cage) to attend their wedding. Ronny's wild, passionate ways ignite a fire in Loretta, and they begin an affair and fall in love.
Why It's a Good Option for Laughs: Romantic comedies are often cute and sweet, but it's rare that they are also super funny. Moonstruck is one of the exceptions. Nicolas Cage's over-the-top acting persona has a time and place, and this is one of those movies where he shines. Cher's Moonstruck performance won her the Academy Award in 1988, and it proved that she is an amazing all-around performer.
Stream it on Amazon Prime here.
A Different World (1987)
A Different World started as a spin-off of The Cosby Show. It followed Denise Huxtable (Lisa Bonet) as she attended Hillman college, a fictional historically black college. However, Lisa Bonet left the series after one season and Whitley Gilbert (Jasmine Guy) and Dwayne Wayne (Kadeem Hardison) became the main characters.
Why It's a Good Option for Laughs: A Different World had a smart writing team that tackled some pressing issues that face black college-age students without losing its comedic style. The biggest strength of the series, besides the clever writing, was the lively performances by the entire cast, but especially Jasmine Guy. Whitley is one of those characters that's hard to forget.
Stream it on Amazon Prime here
The Birdcage (1996)
Nathan Lane, Gene Hackman, Robin Williams, Calista Flockhart, Hank Azaria, and Christine Baranski star in The Birdcage, a movie about a gay couple who must pretend to be a straight conservative couple to impress their son's fiance's family.
Why It's A Good Option for Laughs: Nathan Lane and Robin Williams are hilarious in their own projects, but together they're even funnier. The way they play off one another in The Birdcage is the stuff of legendary comedy duos. It's tragic that we'll never get a Birdcage sequel, because the comedy chemistry between Williams and Lane is something that we would love to see again on screen. The film acts as a reminder of the comedy genius of Robin Williams.
Stream it on Amazon Prime here.
Fleabag (2016)
Phoebe Waller-Bridge stars in and created Fleabag, a series about a woman trying to find herself through a series of hookups, a complicated family dynamic, and a very hot priest. The Fleabag cast includes Sian Clifford, Olivia Colman, and Andrew Scott.
Why It's a Good Option for Laughs: Fleabag is a dramedy so it blends very serious moments with wit and earnestness. Phoebe Waller-Bridge completely embodies Fleabag, this complex antihero character who wears her scars on her sleeves. For every gut punching moment, there is an equally side splitting moment. Fleabag is a nice blend of joy and heartbreak.
Stream it on Amazon Prime here.
Clue (1985)
An ensemble cast consisting of Eileen Brennan, Tim Curry, Christopher Lloyd, Lesley Ann Warren, Martin Mull, Madeline Kahn, and Michael McKean bring the characters of the popular board game Clue to life. They must work together to stay alive and clear their names.
Why It's A Good Option for Laughs: Clue is just one of those hilarious movies that blends smart writing, a bit of slapstick, great characters, and three equally hysterical endings. Clue is one of those movies I've seen so many times and it still makes me laugh every time I see it. It's timeless.
Stream it on Amazon Prime here.
The Office UK (2001)
Ricky Gervais, Martin Freeman, Mackenzie Crook, and Lucy Davis star in The Office. The Office takes on a mockumentary style as it depicts the everyday workings of a branch at a large paper company called Wernham Hogg. The team is led by incompetent and inappropriate David Brent (Ricky Gervais).
Why It's a Good Option for Laughs: I am about to make a very controversial statement: I find the original version of The Office way funnier than the American version. Ricky Gervais's David Brent is just so freaking outrageous that he makes you laugh and also cringe . The UK Office also is very compact with only twelve episodes (plus Christmas specials) that it never really drags on. It also tried some unique things. For example, the will-they won't-they storyline with Jim (John Krasinski) and Pam (Jenna Fischer) became a sweet arc, but the will-they won't-they between Tim (Martin Freeman) and Dawn (Lucy Davis) becomes a running depressing gag throughout the series. It may be a little less heartwarming than the American version, but that's kind of why I love it.
Stream it on Amazon Prime here.
The Cabin In The Woods (2012)
A group of college students head to a cabin in the woods to enjoy a retreat. However, they accidentally wake some zombies. The Cabin in the Woods cast includes Kristen Connolly, Chris Hemsworth, Fran Kranz, Richard Jenkins, and Bradley Whitford.
Why It's a Good Option for Laughs: Technically, The Cabin in the Woods is a horror comedy but the scares are mild. Instead it's a very unique film that explores the problems and key ingredients to making a really fun, scary, and memorable film. Fans of scary moves can appreciate the subtle nods to other films and the genre in general, while also laughing at the way the film dissects the notion of horror in modern times.
Stream it on Amazon Prime here.
The Carol Burnett Show (1967)
Comedian Carol Burnett brings her cleverness to a variety sketch comedy show that featured sketches and performances by Harvey Korman, Vicki Lawrence, and Lyle Waggoner alongside Burnett.
Why It's a Good Option for Laughs: Carol Burnett is a comedy legend who put a lot of blood, sweat, and laughter into coming up with these sketches that kept people entertained and laughing all the way through. The Carol Burnett Show has become a beloved classic show because it's refreshing and zany.
Stream it on Amazon Prime here.
Instant Family (2018)
Mark Wahlberg and Rose Byrne star in Instant Family, a movie based on the real life adoption story of a man and his wife who decide to take in three siblings.
Why It's a Good Option for Laughs: Rose Byrne and Mark Wahlberg's characters go through many trials and tribulations trying to figure out how to become parents to three older children. It's a very sincere film that also has plenty of funny moments. Instant Family is a great movie for families to watch together when they need a collective laugh.
Stream it on Amazon Prime here.
Also Try: Fighting with My Family.
These movies should keep you laughing all week, but if you need more laughs, Amazon Prime Video has a wide collection of movies and TV shows to pick from.
Your Daily Blend of Entertainment News
Spent most of my life in various parts of Illinois, including attending college in Evanston. I have been a life long lover of pop culture, especially television, turned that passion into writing about all things entertainment related. When I'm not writing about pop culture, I can be found channeling Gordon Ramsay by kicking people out the kitchen.