Bunk Preview: Watch An Episode Of IFC's Game Show Parody With Kurt Braunohler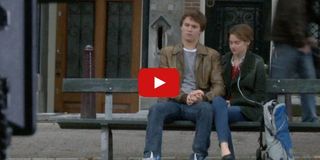 Several premium cable networks have started releasing full episodes online before season or series premieres in order to build anticipation for the particular show, as well as attract some more subscribers. Showtime, HBO and now IFC (as well as others, I'm sure) have all begun making this a regular practice, and the latter just uploaded the second episode of Comedy Bang! Bang! yesterday. Scott Aukerman's new spin on the variety show, an adaptation of his hit podcast, is just one of two new comedies coming to IFC's line-up this summer, so it's no surprise to also see Bunk come online. That does not sound right.
Bunk is a new game show parody hosted by stand-up Kurt Braunohler, and it features three different comedian contestants each week who perform absurd comedy challenges for non-charitable causes. the previous looks at the series were all pretty brief, including the 'players' having to shame puppies for points, but IFChas now made the entire fourth episode available a few weeks before the premiere. It features Thomas Lennon (Reno 911), Eugene Mirman (Bob's Burgers) and Kumail Nanijiani (Franklin & Bash) as the comedic contestants. Take a look...
I would say that Bunk missed more than it hits, but there were a few solid laughs in the 22 minutes. Braunohler is solid as the host and his laugh is a bit infectious, but the strength of the show will obviously be dependent on the strength of the guests. Thomas Lennon is probably the best known of the three on this show but I've never really found him all that funny, making me maybe not the best choice to evaluate this particular installment. The other two are better with Mirman managing a few big chuckles and Nanijiani stealing just about every round. I can see this show flying on IFC's late-night schedule, especially Friday nights, but it's not the kind of series that would inspire a following. More like something you just put on.
I could be wrong. Are you going to tune in every week to watch Braunohler and his rotating group of comics play Bunk? Okay, that still doesn't sound right.
Bunk premieres on Friday, June 8 at 10:30 p.m. ET on IFC.
Your Daily Blend of Entertainment News
Thank you for signing up to CinemaBlend. You will receive a verification email shortly.
There was a problem. Please refresh the page and try again.