CBS Picks Up Shatner's $#*! My Dad Says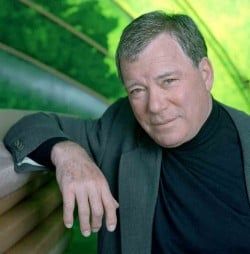 CBS isn't set to unveil their new schedule until Wednesday. But that didn't stop news coming out about some of the shows they picked up. The network has signed up for a full season of awesome! Confirmed by William Shatner himself, CBS has picked up $#*! My Dad Says, as reported by The Hollywood Reporter, though they have recast Ryan Devlin as the young lead.
Going nowhere, and a huge reason the series is coming to a screen near you, is The Shat in the role of the titular "Dad." William Shatner is a television institution, and can make anything hilarious. Our sets have been quiet, save his presence in Priceline commercials, since Boston Legal went off the air in 2008.
Like Betty White, Shatner never goes out of fashion, and at 79 years young, he's clearly got years of great work yet ahead of him. If you check out the Shit My Dad Says Twitter account, you'll get an idea of the kind of man Shatner will be playing.
The concept for the site is pretty basic. Justin Halpern had to move back in with his parents, including his 74-year old father. The entire site consists of quotes from his father. As of this writing, there are only 119 of them, but that was enough to secure Halpern a book deal and now a major television series starring William freaking Shatner!
Will CBS put it into their Monday lineup, or perhaps have it replace Gary Unmarried or The New Adventures of Old Christine on Wednesdays, where it can take on the powerhouse ABC comedy lineup. Whichever night it lands on just became "Must See TV" night.
For more coverage on the 2010-2011 season, click here!
Your Daily Blend of Entertainment News
Your Daily Blend of Entertainment News
Thank you for signing up to CinemaBlend. You will receive a verification email shortly.
There was a problem. Please refresh the page and try again.