Camelot Review: Starz' Promising New Drama Debuts This Friday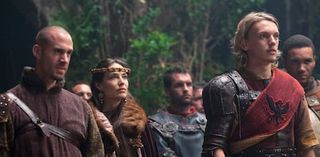 With the Spartacus series once again on hiatus, Starz has a pretty big hole to fill in their Friday night line-up and they're attempting to do that with Camelot, an Irish-Canadian co-production from Octagon and Take 5 Productions, which retells the classic story of King Arthur.
Camelot begins with the death (or murder) of King Uther and the ensuing chaos that follows all around Britain. Believing herself to be the sole blood heir to the throne, Morgan (Eva Green), armed with magical dark powers, prepares to take over. But sorcerer Merlin (Joseph Fiennes) throws a wrench in her plans when he retrieves Arthur (Jamie Campbell Bower), the King's unknown son. Raised as a commoner, with no knowledge of who he really is, Arthur must quickly learn the meaning of true leadership as he rises up to take the throne. He's joined by Kay (Peter Mooney), the man he's known as a brother all his life. Leontes (Philip Winchester) is one of Uther's bravest knights and quickly demonstrates this by taking Arthur's side.
Banished from the kingdom by Morgan, former Queen and Arthur's biological mother Igraine (Claire Forlani) offers to help Arthur understand the role he's about to play. And of course, there's Guinevere (Tamsin Egerton), the beautiful woman who capture's Arthur's heart immediately. Unfortunately, she's nearly off the market as she's betrothed to Leontes.
Camelot gets off to a running start with Arthur quickly being plucked from obscurity and thrust into his role as leader, despite his youth an inexperience. While Merlin uses age and wisdom to steer Arthur in the right direction, Fiennes' performance as the sorcerer leads the pack. Merlin is by far the most interesting and intriguing character introduced to us from the start. Forlani delivers a warm but strong performance as Igraine, while Green brings just the right amount of dark, twistiness to Morgan. But it's Fiennes who appears to be the backbone of this series right now, playing the part of the wizard with just the right amount of confidence, determination and a subtle hint of humor. Jamie Campbell Bower plays Arthur well but, just as Arthur needs time to grow into his role as King, I have high hopes that Bower will grow into this part as the character continues to develop.
Camelot doesn't waste any time getting into the drama. A lot happens within the span of the first three hours, all of which is fairly easy to follow. The biggest criticism I can give is really the only one I have; the story moves along at such a quick pace that we don't really have much time to fully get to know the characters or speculate on their motivations and what really makes them tick. There's still plenty of story to tell but not a lot of mystery or suspense brewing from the start, and it feels as though almost everything is on the surface. There's certainly something to be said for that kind of nearly immediate pay-off, especially at the beginning of a series, but a bit more character development and build-up might make for bigger reveals and resolutions in the long run.
Camelot may need some time to settle into a pace, but viewers will have plenty to appreciate about the series when it premiers on Friday. It should be noted that this probably won't be one to watch with the kids. To compare it some other recent period dramas, it doesn't contain nearly as much sex, violence and nudity as Spartacus: Blood and Sand or what little I saw of HBO's Rome, but there's enough of all three to warrant a suggestion of parental guidance. And, while I won't pretend to be an expert in Arthurian Legend, I'm under the assumption that Starz' version of the story is taking some dramatic license for the sake of suspense and originality. This is a drama series, after all. Expect pretty costumes, gorgeous landscapes, castles, swords and a familiar story.
Starz' latest original series shows promise and could be another must-watch Friday night drama, with plenty of action, romance and drama to keep us entertained over the course of its run. Much like Arthur himself, with time and the right kind of guidance, Camelot has all the makings to be something truly great.
Camelot premiers Friday, April 1st at 10:00 p.m. ET/PT on Starz.
Your Daily Blend of Entertainment News
Thank you for signing up to CinemaBlend. You will receive a verification email shortly.
There was a problem. Please refresh the page and try again.