Cast Additions For HBO's Entourage, Hung And True Blood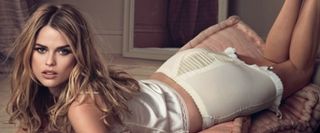 Three of HBO's big Sunday night series (well... two of their BIG shows and one of their smaller ones) have just added new regulars to their respective casts. The three shows in question? Entourage, True Blood and Hung.
Deadline (opens in new tab) reports that Alice Eve, of She's Out of My League and Sex and the City 2 fame, is joining the final season of the celebrity dramedy Entourage. They note that Eve will appear in a four episode arc where "she will play a journalist assigned to write a profile piece on Vincent Chase (Adrian Grenier) who subsequently becomes a possible love interest for the actor." Oh no, things on the outs with Sasha Grey? Shame.
HBO's Hung also beefed up their cast by adding Ana Ortiz (from Ugly Betty) for a multiple episode run on the comedy, which stars Thomas Jane as a man down on his luck who turns to prostitution to stay afloat. Deadline describes Ortiz' role as "a woman with serious anger issues who becomes a client of part-time male prostitute Ray (Jane). He ends up helping her deal not only with her voracious sexual appetite, but also supporting her strong emotional needs." Geez, they can't even keep emotions out of a pay-for-sex relationship.
Lastly, Deadline also notes that a third HBO show, Alan Ball's True Blood, has been doing a bit of casting as well, specifically filling the role of Luis Patino with actor Peter Macdissi. The character Patino is "a vampire sheriff in Louisiana, who harbors a troubled past with ties to the Spanish Inquisition, torture, and the witches that are settling in Bon Temps." Hm. Good vamp or bad vamp? By the sounds of it, Sookie may have found a new ally in the inevitable fight against these witches.
True Blood returns June 13 on HBO at 9 p.m. ET. Entourage and Hung will both begin new seasons on June 27 on HBO at 10 p.m. and 10:30 p.m. ET respectively.
Your Daily Blend of Entertainment News
Thank you for signing up to CinemaBlend. You will receive a verification email shortly.
There was a problem. Please refresh the page and try again.