Charlies Angels Remake: Genius Idea Or Another Flop?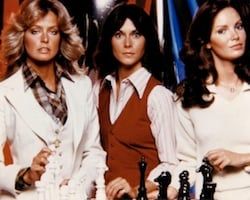 A Charlie's Angels remake could be a stroke of TV genius or a complete disaster. I'm thinking there can be no in between on this one. Variety reports that ABC is close to giving a pilot order on a remake of the popular 1970's series, with Terminator: The Sarah Connor Chronicles creator/(adaptor) Josh Friedman to writ and exec-produce.
On one hand, remakes seem to be hit or miss these days. Battlestar Galactica soared, while Knight Rider and Bionic Woman flopped. And while V seems to have gotten off to a good start on ABC, The CW's remake of Melrose Place isn't cutting it. So, which side of the line would a remake of Charlie's Angels fall? It seems ABC's contemplating that very question.
For me personally, I barely remember the original Charlie's Angels, so I haven't exactly been crossing my fingers that they bring it back. It's Friedman's involvement in the potential series that gives me hope that the remake could actually be amazing and not just an excuse to put three hot chicks in various skin-tight get-ups and have them run around making cute one-liners as they solve crimes and beat up bad-guys. Maybe I still have a bad taste in my mouth over the Charlie's Angels films. Still, Friedman excelled at bringing out the strength in Sarah Connor's character in Terminator: SCC without completely stripping her of her femininity. I could see him finding a similar balance in a new version of Angels.
Your Daily Blend of Entertainment News
Thank you for signing up to CinemaBlend. You will receive a verification email shortly.
There was a problem. Please refresh the page and try again.