Cheryl Tiegs Explains Why She Could Not Hack It On Celebrity Apprentice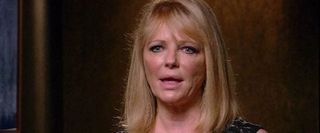 During last night's premiere of Celebrity Apprentice, 64-year-old former supermodel Cheryl Tiegs was the first contestant to head home. Trump's decision to fire Tiegs was mostly due to a sort of caving in on the model's own part, although a slower than average work ethic certainly did not help. Either way, being the first contestant sent home on a reality series is a poor showing, and Tiegs went on the Wendy Williams show this morning to defend her exit from the show.
In the interview, Tiegs talks about the various accomplishments she has worked for in her life, as well as stating she has always been a team player and a nice team player, a sentiment that echoes her own exit interview on Sunday night's episode of Celebrity Apprentice.
Tiegs really does seem like a nice person and probably not the type who would have thrived in the Apprentice environment, so her departure was probably for the best. Still, Tiegs' rocking purple tights, as well as what she has to say about the whole "mean-spirited" ordeal, are certainly worth a watch, courtesy of The Huffington Post.
(If the above video doesn't play, it can be viewed here).
Donald Trump is set to appear on The Wendy Williams Show on February 21, so tune in to see whether or not he bothers to give Tiegs a rebuttal.
Your Daily Blend of Entertainment News
Thank you for signing up to CinemaBlend. You will receive a verification email shortly.
There was a problem. Please refresh the page and try again.