The Dirty Line Fox Cut From Grease: Live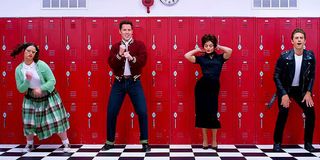 It's not uncommon for live TV programs based on popular musicals to make some tweaks, but Fox's upcoming Grease: Live production recently changed a dirty lyric to make it a little less offending to the audiences watching at home. If you are familiar with the show tunes in Grease, you may already be guessing the rather risqué line included in the song "Greased Lightnin." Check out the offending lyric, below.
The production is a pretty big one, with more than 44 cameras, a live component and an extensive cast. When Fox signed on for Grease: Live, it seemed as if the network was doing the same thing as NBC with its live musicals. But while NBC has chosen extremely family-friendly projects like The Sound Of Music and The Wiz, Fox has been all over slightly edgier (but not too edgy!) fare, like Grease and The Rocky Horror Picture Show. Apparently, that's not what advertisers—including the behemoth company Coca-Cola--are looking for.
It would be awkward to cut the line from the song entirely, and Adweek is reporting those in charge of production have changed the line from "the chicks'll cream" to "the chicks'll scream"—an easy change, if I've ever seen one. That's not the only lyric that got the boot, either. The line "She's a real pussy wagon" will be switched to reflect a "dream wagon" instead. And Grease Live! was made family-friendly for all.
This isn't the first time the lyrics have been reworked for a Grease production. The same lyric is changed in Paramount Home Media Distribution's Grease sing-a-long edition. Obviously, if you aren't a Grease purist, the changes are more amusing than anything else, but it does make me wonder how the network is possibly going to be able to pull off Rocky Horror Picture Show when it comes around. After all, that musical is all about the innuendo. All about it. Good luck trying to rewrite pretty much every single lyric in "Touch-a, Touch-a, Touch Me." Even if you changed "rub me down" to "hug me down," there's a slew of other equally dirty lyrics in that song, and in many others from the musical.
Perhaps the expectations will be different if there are different advertisers involved. We'll keep you posted.
In the meantime, Grease: Live! is set to hit the schedule this weekend, premiering on Sunday, January 31 at 7 p.m. ET. If you'd like to check out the all-star cast involved with the production, which includes Vanessa Hudgens and Julianne Hough, you can check out our updated list.
Your Daily Blend of Entertainment News
Reality TV fan with a pinch of Disney fairy dust thrown in. Theme park junkie. If you've created a rom-com I've probably watched it.