Rocky Horror Picture Show Remake Has Found Its Frank-N-Furter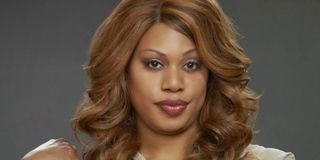 Earlier this year, Fox announced its intent to reimagine the cult classic Rocky Horror Picture Show yet again to coincide with the original film's 40 year anniversary. Surprisingly, the internet didn't implode upon itself with cries of ruined childhoods, etc., etc. Rather, it appeared that many Rocky Horror fans welcomed the opportunity to see their beloved train wreck re-wrecked. Well now those fans have another reason to be excited, as the project has apparently found its Dr. Frank-N-Furter.Orange Is The New Black's Laverne Cox will step into Tim Curry's giant shows as the driving force of the musical.
Cox, Hollywood's most noted transgendered personality since RuPaul, became the first openly transgendered person to be nominated for an Emmy award for her portrayal of Sophia Burset on Orange.(Or, New Black. Not exactly sure what the going hip shorthand for the popular Netflix original series is.) TV Line reports she'll be bringing new life to the Frank-N-Furter role, which is described as a reimagining of the original movie.
For those whose friends never dragged them to the local art house theater at midnight on a Saturday night, (technically Sunday morning), to see way too excited fans of the 1975 original act out and sing along to every line of the film, Dr. Frank-N-Furter is a highly sexualized mad scientist who hails from Transexual, Transylvania. According to Fox's own logline, Rocky Horror will follow:
Tim Curry played the original Dr. Frank-N-Furter to near perfection 40 years ago.
It will be interesting to see how someone else handles the role that has been so popular in movie screenings across the country for decades. It'll certainly be different, but in a way, that's actually a good thing. Curry struck a very aggressive figure in his Rocky Horror Picture Show ensemble and captivated audiences with his off-beat energy. In fact, the role has launched a million impersonators. What Cox will need is to carve out her own version of the character that offers a few nods to the original, rather than an attempt to recreate. Tune into the Fox two-hour network event in Fall of next year to find out what choices she makes.
Your Daily Blend of Entertainment News
Thank you for signing up to CinemaBlend. You will receive a verification email shortly.
There was a problem. Please refresh the page and try again.