Discovery Channel Axes Man Vs. Wild Host Bear Grylls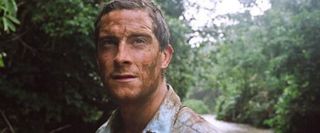 After making his career throwing himself into dangerous outdoor situations, and inspiring plenty of idiots to follow suit, Bear Grylls will no longer be facing off against nature on The Discovery Channel. A spokesperson for the network told The Hollywood Reporter that they have terminated "all current productions" with Grylls, apparently after trying to get him to participate in two unannounced projects that he was contracted to do. Season 7 of Man vs. Wild aired last fall.
THR points out that this isn't the first time Discovery has squabbled with their name-brand reality stars-- in 2010 they sued Deadliest Catch captains Jonathan and Andy Hillstrand over their work on a spinoff, Hillstranded, but the two captains settled it and went back to work. Grylls, who has written nearly a dozen books, has a memoir set to be published in the US in May and has his own clothing line, clearly had a lot less to lose by ditching Discovery, and has decided he's enough of a name on his own to make it without them. I can't say I blame him-- I've never watched a single episode of Man vs. Wild and I know who Grylls is, and honestly assumed when I first heard he'd been fired that his stunts had inspired one too many people to get themselves killed in the woods. Even if he doesn't wind up doing another show on any network, his name will very much be out there in the public sphere.
Seeing networks clash with their stars isn't that unusual, but it's always a little strange when it's a reality star-- even someone whose "realism" has been questioned as often as Grylls. Let us know in the comments if you'll miss Man vs. Wild, or if you'll follow Grylls's work no matter where he ends up.
Staff Writer at CinemaBlend
Your Daily Blend of Entertainment News
Thank you for signing up to CinemaBlend. You will receive a verification email shortly.
There was a problem. Please refresh the page and try again.