The New Doctor Who Has A Start Date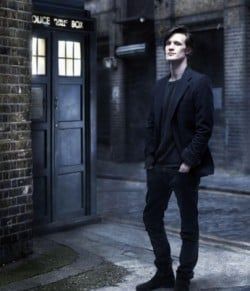 British fans of Doctor Who now know that they can catch Matt Smith's first adventure as The Doctor on Saturday, April 3, as reported on Slice of Sci-Fi. American fans will have to wait a bit longer until BBC America decides to share when it will air here. Throughout the current series' run, the US has gone from being quite a bit behind, to airing barely a day later.
Particularly, the last couple of David Tennant specials have aired in the US on the Sunday directly after their Saturday airing in the UK. While the show has done well on Saturdays in the UK, Saturdays have become a dumping ground for unloved shows in the US. Nevertheless, BBC America has been programming many of their science fiction imports in the timeslot, like Being Human, Demons and their current Saturday occupant: Survivors.
Doctor Who: The End of Time was incredibly anticipated, and fanatical fans of the series weren't likely to wait weeks or months for BBC America to air it. Instead they would have been looking toward less legal sources to see Tennant's final goodbye. I would imagine the premiere of the next Doctor would be just as anticipated, so BBC America would be smart to keep their airings as close together as possible.
While many UK series are virtually unknown to US audiences until BBC America brings them over, Doctor Who has transcended borders. That means fans are paying attention to what's going on with the property in the UK already, and waiting anxiously for whatever's next in the Doctor's expanding universe -- except for The Sarah Jane Chronicles for some reason. That's why we're getting Torchwood and Doctor Who as quickly as possible over here.
The question then is if BBC America would premiere the new season of Doctor Who on Easter Sunday, or actually take it a step further and air it on Saturday night in the US as well, which would put it only hours behind the UK broadcast.
Your Daily Blend of Entertainment News
Your Daily Blend of Entertainment News
Thank you for signing up to CinemaBlend. You will receive a verification email shortly.
There was a problem. Please refresh the page and try again.