Drop Dead Diva's Ben Feldman Joining Mad Men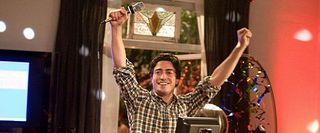 After returning to record-high ratings last week, long-absent Mad Men is getting down to business, and will be adding a new face to the office as of tomorrow's episode. Drop Dead Diva star Ben Feldman is joining the cast in a role being kept under wraps, making me wonder what sort of plot twist is headed our way involving him.
In spite of being off the air for 20 months between seasons four and five, Mad Men came back with a bang last week and hit series-high ratings, up in all of the key demographics. Keeping that level of interest in the show up will be the next challenge for showrunners, and adding some new blood is definitely a great way to do that. The dynamics between the well-known characters on the show are always interesting, but so is a shake-up now and then. It's hard to say what kind of shaking Ben Feldman will cause, but Deadline says he'll be playing a new employee at Sterling Cooper Draper Pryce. Things must be on the upswing for the struggling agency after the loss of their main account, Lucky, if they can now add new employees.
The casting of a new guardian angel for Jane on Diva raised the question of where Feldman's character, Fred, will wind up on the series, which premieres its fourth season in the summer. However, Kim Kardashian has signed on to play a love interest for Fred, so it looks like he will still be busy over on that set.
Your Daily Blend of Entertainment News