E! Developing Scripted Series, Including Modern Spin On The Wizard Of Oz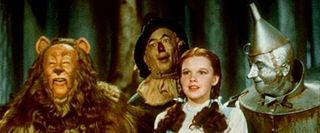 The E! network has made its name by sifting through every element of celebrities' lives, no matter how sordid or uninteresting. This strategy reached its apex with Keeping Up with the Kardashians, and the associated spinoffs: shows about celebrities who were only celebrities because E! made shows about them being celebrities. (And also probably that sex tape.) Where's a network to go from there? Why, into scripted programming, of course!
The concept of E! airing original scripted shows is a little hard to wrap one's brain around, but then this is a brave new world, and if Netflix can have Kevin Spacey and David Fincher making a show for them, I guess E! can give it a shot too. Surprisingly, the line-up of shows they've announced isn't nearly as vapid or centered on conspicuous consumption as you might assume. Don't get me wrong, I probably still won't watch any of them, but I also won't spend any time judging them silently from afar.
Probably the most interesting of the line-up are Dorothy and Anne of Hollywood. The former is a modern-day retelling of the Wizard of Oz, substituting a fancy hotel for the Wizard's traditional digs. Anne of Hollywood is also an old story relocated to a current setting: in this case it's based on the story of Anne Boleyn and Henry VIII. I imagine that one's going to need some heavy rewriting toward the end. E! doesn't strike me as a network that's down with decapitations.
Here's the full line-up of the network's upcoming scripted shows, courtesy of EW:
Your Daily Blend of Entertainment News
Thank you for signing up to CinemaBlend. You will receive a verification email shortly.
There was a problem. Please refresh the page and try again.